Bernie Sanders released a four-minute long video on his official Twitter feed talking about an economic bill of rights.
I could go into how these are investable, and the ideas of high taxes and government economic micromanagement are the opposite of the type of liberal freedoms out Founding Fathers wanted.
For instance, he says:
"Are you truly free if you are a small business or family farmer who is driven out by the monopolistic practices of big business?"
Of course, the fix for this is to break up the big business monopoly and expand economic freedom, not crush everybody under the monopolistic practices of big government.
Those are all important points, but there was one part of the video that stood out as beyond evil and wrong.
It's time for a 21st Century Economic Bill of Rights because there is no freedom without economic freedom. pic.twitter.com/EYAg0Z2eby

— Bernie Sanders (@BernieSanders) June 15, 2019
Did you catch it?
It is when Bernie is talking about veterans. His voiceover says:
"Are you truly free if you are a veteran who has put his or her life on the line to defend this country and tonight will be sleeping out on the streets."
This is the image that is shown: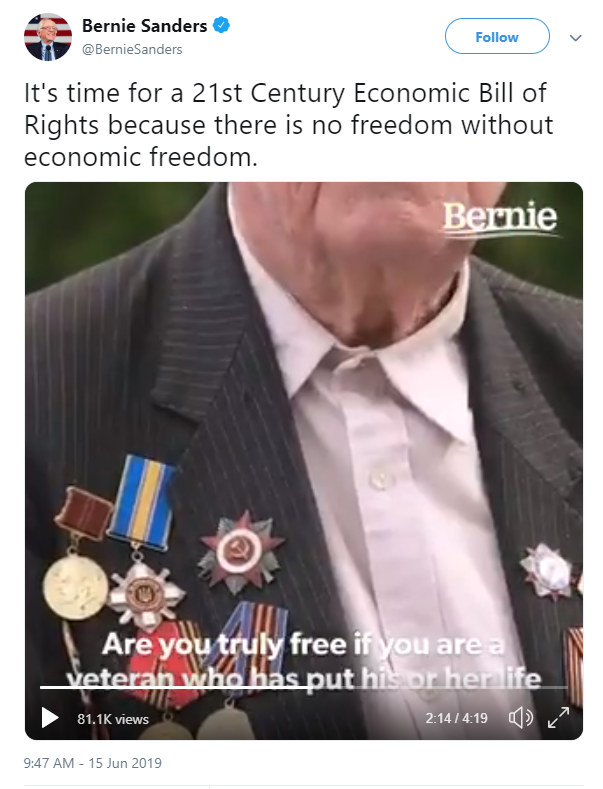 I don't know how this escaped review by the countless people who made and edited this video before final approval by the Sanders' campaign, but none of those are American Military medals.
I can identify at least the Order of the Patriotic War, Medal for the Capture of Berlin, Jubilee medal For Valiant Labour in Commemoration of the 100th Anniversary since the Birth of Vladimir Il'ich Lenin.
So this is a man who clearly served in the Soviet Army on the Eastern Front in WWII.
Explain to me how this guy "put his or her life on the line to defend this country" as a patriotic Soviet?
Couldn't they find one decorated veteran of Vietnam, or Iraq, or Afghanistan to tug at our heartstrings?
No, they found a man representing a country we were at a continuous state of Cold War with for nearly five decades.
When an American Presidential candidate seems to care more about Soviet veterans than Americans, that is a real indication of a problem.
This video was released yesterday, let's see how many media organizations point this out.