I do feel that the movement to end advanced math classes conflicts with the Biden administration's stated goal of preserving and extending U.S. dominance in key high-tech industries in the face of international competition.https://t.co/JOpV3LZ0qC

— Noah Smith ? (@Noahpinion) June 9, 2021
Killing advanced classes does nothing to improve broad-based math education, or to foster the skills necessary to have a broad, highly competent technical workforce — which is what we need if we're going to keep our high-tech industries.https://t.co/9nEfYBk1ZL

— Noah Smith ? (@Noahpinion) June 9, 2021
Simply refusing to teach well-prepared kids advanced math will NOT result in less-well-prepared kids learning math more effectively. Math learning is not some kind of resource in fixed supply. Giving one person less doesn't mean others get more!

— Noah Smith ? (@Noahpinion) June 9, 2021
Noah Smith is wrong.
This isn't ignorance or the product of a zero-sum mindset.
This is a purposeful and malicious attack by the elite of society on the non-elites.
The families who can afford private schools in New York City are elites.  They will put their kids in private school to get the best education they can so they can go to a top-tier (probably Ivy League) college and end up back in the world of the elites.
The working and middle-class that cannot, will suffer.  This will make it harder for their children to level up.
The elite fundamentally do not care if nothing is made in the US, they make money fondling money on the international stage.  If they need to outsource to some other country, that's just more money in their pockets.  If some middle-American town dies, so what, they live in NYC and don't care.
The fundamental mindset is "you can't sit here."
The elites love, above all else, having things and access to things that regular people don't.
I have tasted Johnny Walker Blue.  I have drunk a $500 bottle wine.  I've eaten caviar that costs more per ounce than Silver.  I have ridden in a Ferrari and a  Maybach.
I have had Costco wine that is better.  My Ford Mustang is more comfortable than a Ferrari and a Limited Ram 1500 or Platinum F-150 has just as much leather as a Maybach SUV and the infotainment is better.
The point of buying shit like that is the knowledge that people who didn't go to the right finishing schools and then to Harvard and then do a brokerage firm on Wall Street can't buy that stuff.
Moreover, what the elite hate more than anything else is that so much of what they had we can have too.
I an go to Costco and buy the same huge, ultra-HD TV that once-upon-a-time only they could have.
I can order a luxury pickup truck that is nicer than the last Mercedes they owned.
Cellphones and laptops used to be status symbols of the elite.  Think about Gordon Gekko in Wall Street talking on his cellphone in 1987.  By 1997, every middle-class businessman in Miami had a cellphone.  By 2007, cellphones were so ubiquitous that high school kids had cell phones, new homebuyers had given up landlines, and payphones were removed from public places.
Technology had democratized luxury and the elite couldn't stand it.
Since then, the desire has been not just to own more but to make the rest of us own less.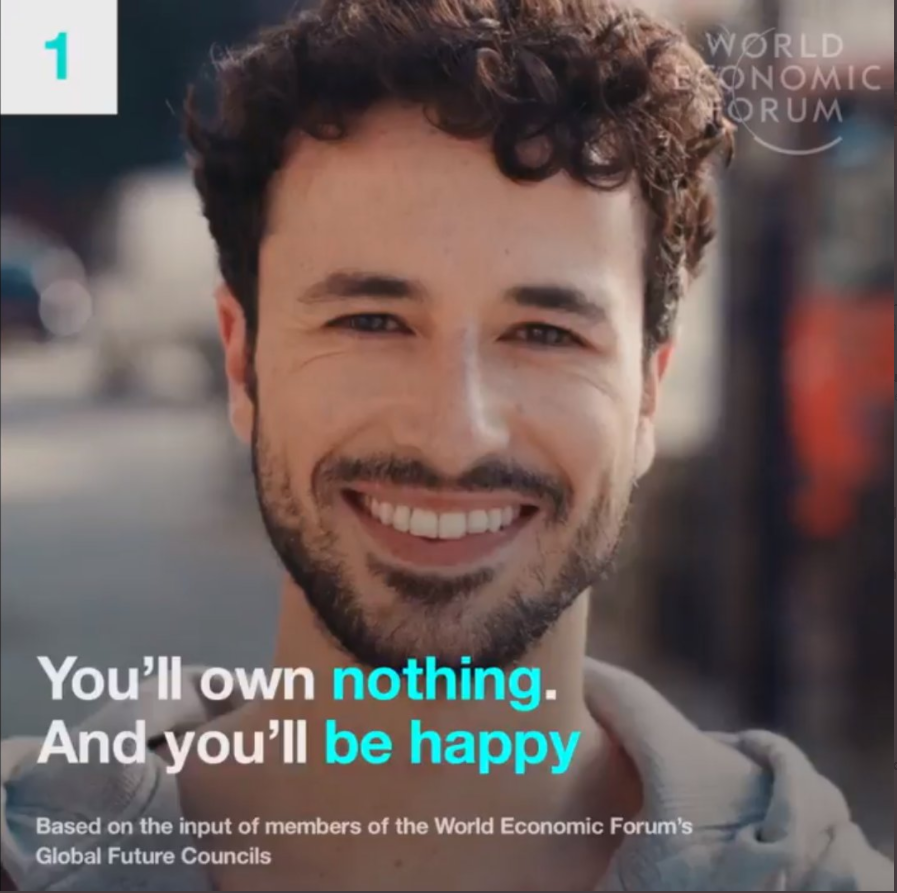 That doesn't apply to the elite, just to us.
Remember, everything they do is 100% the opposite of what they say.  They claim to want to fix income inequality but everywhere they are in power, income inequality increases.
That's the goal.
They are doing their best to stomp us down into a dependent prole class.