By now you should be aware of the controversy regarding Comedy Central and the censorship of an episode of South Park portraying Mohammed and the threats by some Islamic moron from Brooklyn named Abu Talhal und Falafel et Camel or something like that who posted in his now defunct website that ""We have to warn Matt and Trey that what they are doing is stupid and they will probably wind up like Theo Van Gogh for airing this show. This is not a threat, but a warning of the reality of what will likely happen to them." The site displayed picture of the corpse of Theo Van Gogh as added visual reference.
The bending over of Comedy Central was their own and the South Park producers Matt Stone and Trey Parker were not involved. Actually they sounded kind of pissed by Comedy Central's actions and its bout of Political Correctness in a station who has no qualms on letting programs insult other religions.
So in response of these threats and Comedy Central's sudden testicular vanishing, the "Everybody Draw Mohammed Day" has been set for May 20, 2010.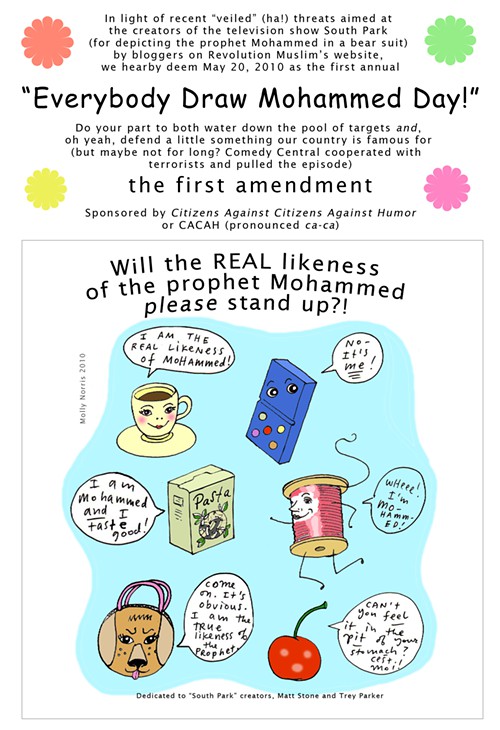 This should be interesting. I can already hear the cries of racism and intolerance from CAIR and the bowel-less pundits everywhere. Heck, I might get creative myself just to see them anguish and pissed.
Hat Tip to Conservative Scalawag.