This story made me angry.
Horrific video shows toddlers watch as daycare worker attacks boy, 2, and breaks his leg as parents blast soft sentence which saw abuser handed PROBATION
Disturbing security footage shows the moment a Las Vegas daycare worker breaks the leg of a two-year-old boy, manhandling the child as other horrified toddlers watch.
Elicia Miller, 32, was charged with child abuse for the May 2021 altercation at Creme de la Creme daycare, which saw her pick up the unidentified child and slam him to the ground, grappling with him until his leg snaps. The video was first obtained by the 8 News I-Team.
Miller, however, will not serve jail time for the incident, after confessing and pleading guilty to attempted child abuse in June, receiving only probation, 50 hours of community service and an anger management class as a result.
The footage shows a seemingly distressed Miller violently scooping the child off the floor of the daycare and carrying him across the room, his limp body dangling side to side as she holds him by his armpits.
The staffer then slams the child to the floor behind a piece of furniture, obscuring the camera's view of the altercation, where she appears to grapple with the struggling child.
Hours later, the boy's father arrived at the establishment to pick up the child, finding him distraught and shrieking in pain. He told KLAS that Miller told her of a physical encounter between her and his son, and apologized as he put his son into his car.
This was the condition of the boy's leg.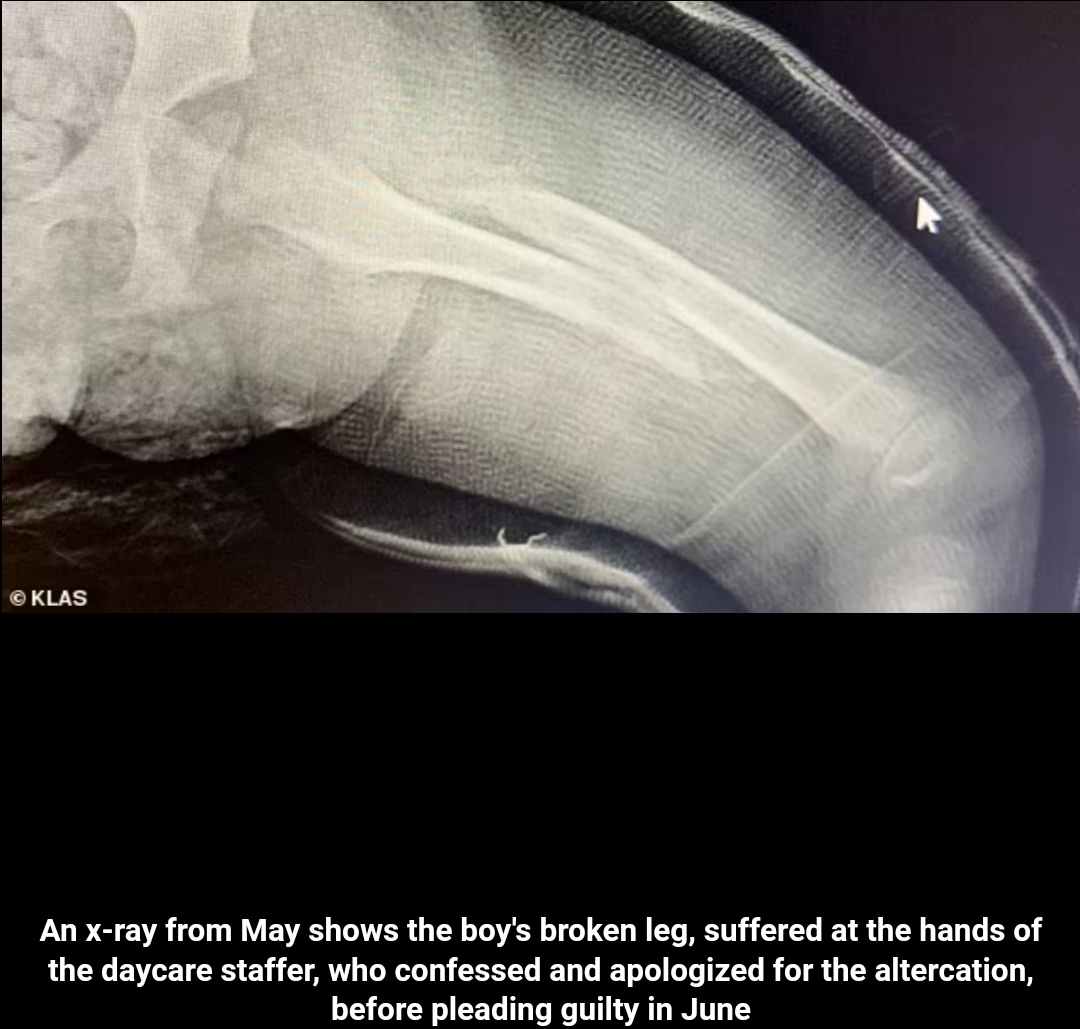 That is a completely displaced femoral fracture.
Not just does that hurt in a way that words do not describe, it is potentially lethal as the bone can sever the femoral artery.
Also, the leg is significantly shorter than usual.
Believe me, I understand fully displaced fractures.
I'm going to be entirely honest.
If I went to pick one of my kids up from daycare and saw that 9-1-1 would be dispatching an ambulance for my son and a coroner for the daycare staffer.
I am a man of principles. One of my principles is that if you hurt children you die.
This woman deserves a slow chippering.
Whatever judge decided that she doesn't deserve jail time can follow along right behind her, because there is no excuse for letting a monster like that free.