This one came out yesterday: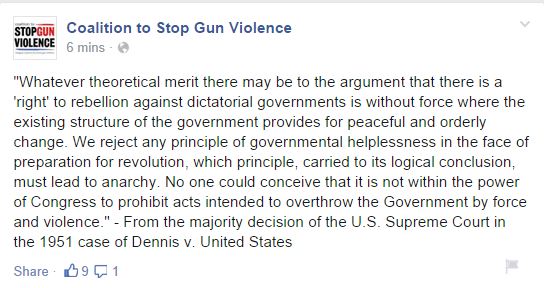 And it is true. Dennis v. United States was a case where leaders of the Communist Party of the USA were tried and convicted for  advocating the violent overthrow of the US government and for the violation of several points of the Smith Act. They appealed and the case went all the way to SCOTUS who approved.
But, now we fast forward to 1957 with Yates v. United States which the Supreme Court hobbled Dennis v. United Sates  by deciding that the First Amendment protected radical and reactionary speech, unless it posed a "clear and present danger." The final nail in that particular insurrectionist coffin came with Brandenburg v. Ohio (1969) in which SCOTUS re-affirmed Yates and went on some more by stating that the government cannot punish inflammatory speech unless that speech is directed to inciting, and is likely to incite, imminent lawless action.
I am guessing that somebody in CSGV went to class with that inspired Constitutional Professor at 1600 Pennsylvania Av.?