In recognition of Gov. Asa Hutchinson's recently opining that the open carry of firearms is, as he understands it, legal now under Arkansas law as long as the person doing the carrying doesn't intend to commit a crime, The Observer is pleased to announce the next step in the ongoing fight to preserve and defend the Right to Bear Arms: The Open Carry of Large Butcher Knives, Rusty Machetes or Razor-Sharp Hatchets Movement.At the core of our grassroots, common sense movement is this: Because the world is a terrifying hellscape full of people who don't look like you and me, nor pray, have sex, live in the same neighborhood or watch the same news channel as you and me, the law-abiding citizens of Arkansas will henceforth exercise our right to bear either a large butcher knife, rusty machete or razor-sharp hatchet everywhere we go
Source: A modest proposal | The Observer | Arkansas news, politics, opinion, restaurants, music, movies and art
I was actually going to mock the editorial by pointing out that Arkansas has a pretty decent knife law to begin with since they removed the length limit on knives a couple of years back. What is happening in Arkansas in relation of Open carry is that the former Attorney General concluded that the way the law was written, OC was illegal. The new Attorney General however declared that the law allows for Open Carry so now people like the editors at The Observer are freaking out. The law will probably need another pass at the Legislature to get it fixed, but as I understand it, the intention was for OC to be legal.
But I found pure gold in the comment section and I could not let it get away: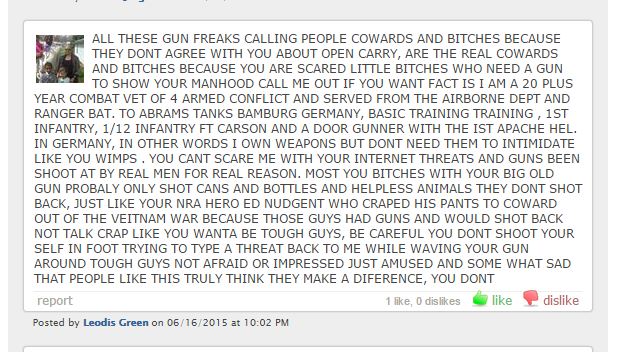 I lost it at the door gunner for the Apache Helicopter although I have to admit that the Department of Airborne is a damned good one.