I have been reading the comments in Miguel's post Michael Bane: "Dammit, how many times do we have to say this?"
The first bullet point in the post was:
1) Be armed all the time! This isn't a game played only on Tuesdays and Thursday. ALL THE TIME! The universe doesn't care whether today is the day you decided to leave the gun at home so you could wear your comfy shorts.
I thought I'd throw in my two cents on this.
I love being a dad.  There are many great things about being a dad.  I fully embrace my dadism.
One advantage of being a dad is nobody gives a shit about my fashion sense outside of some very specific circumstances.
When I am running errands with the family on a Saturday (like I did yesterday) and I have a 5-year-old and an 18-month-old in the shopping cart with a diaper bag, nobody cares that I am in shorts and Crocs.
When it is 90 degrees and humid out, like it was yesterday, I can wear my comfy shorts and gun and medical gear because I am a dad.
How?
Let me introduce you to the Galco Escort Waistpack, aka, the fanny pack holster.  There are many like it, but this one is mine.
This is my regular loadout: Para Ordnance Warthog, 14 round spare mag, Victorinox Super Tinker, Coast HP5 LED flashlight,  EMS shears, small Israeli bandage.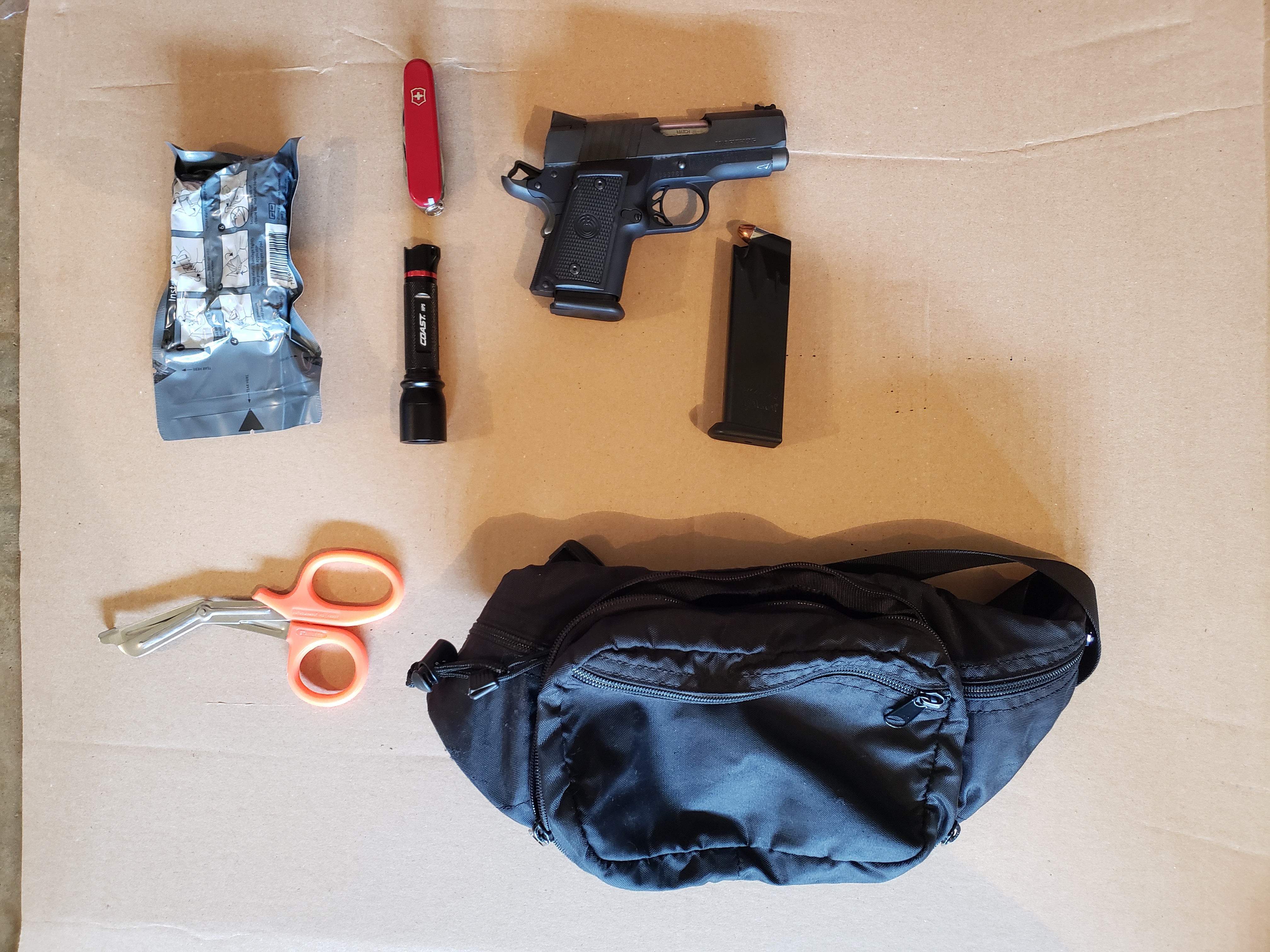 I like my Warthog, my runs just fine and I don't feel under gunned with 24 rounds of 185 grain 45 ACP JHP.   I like the lighter bullets out of shorter barrel guns.
This is how the gun stores in the fanny pack.
I cut out the retaining strap.  If you have other fannypack holsters, those are generally velcroed in.  I've never worried about retention with the pack closed so the extra strap is just something that gets in the way to me.
Everything else is in the outer pocket.
This is the whole thing zipped up.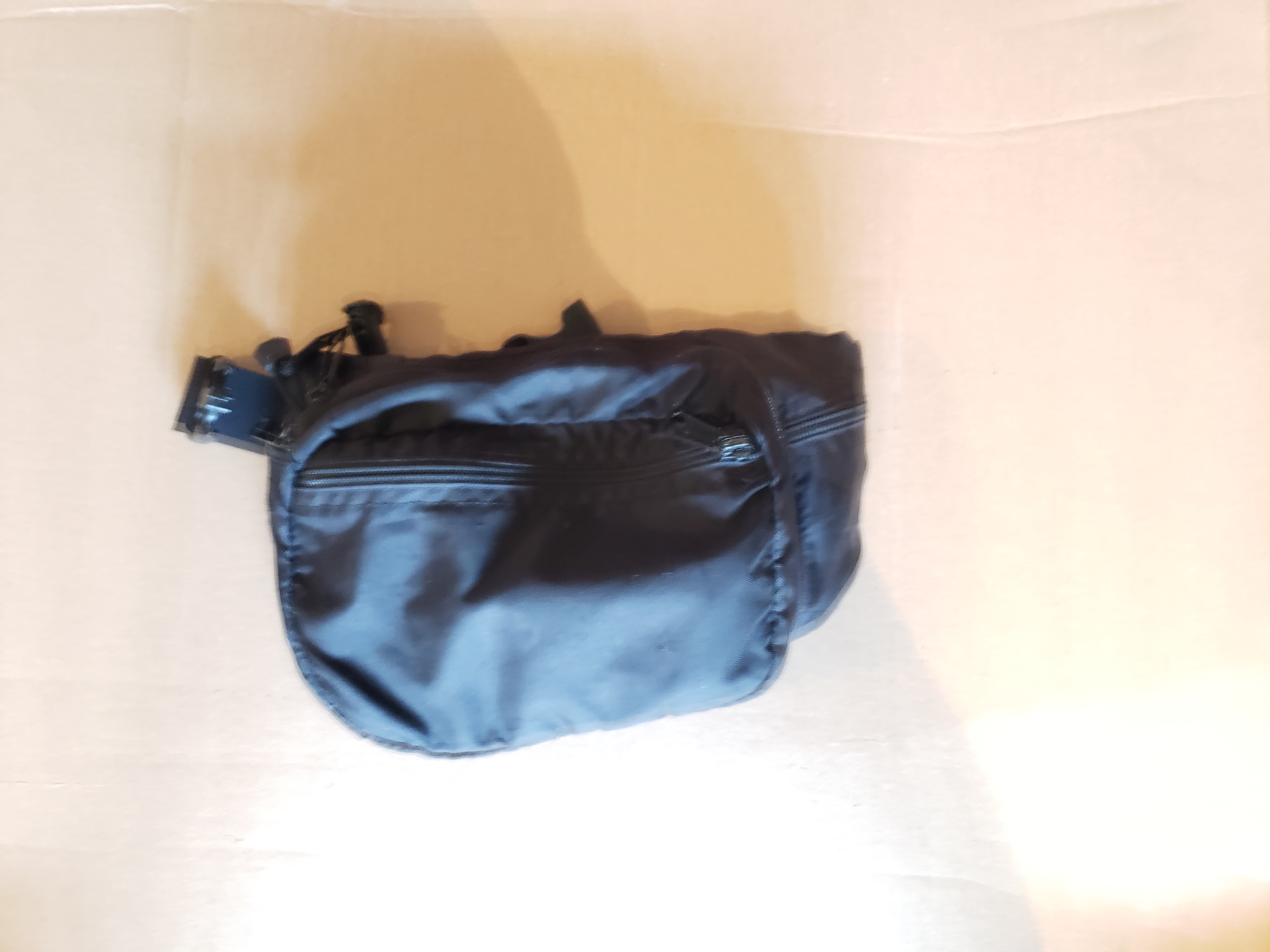 I added an extra bit of 550 cord to the pull tab to make it easier to get open in a panic.
You can't tell that I have a gun in there, can you?
I prefer to carry the Israeli bandage in the fanny pack.  This is a 4-inch bandage, there is also a 6-inch one too.  It's a little more versatile and smaller than a dedicated tourniquet.  It can be used as a tourniquet if you know how to apply it.  They are also cheaper (about half the price) and you can carry multiple if you need to.
I can easily take off the fanny pack to drive, then I put it on in the parking lot before going into the store.
We did our whole round of shopping, including Costco, Wal-Mart, and Kroger, carrying the fanny pack the entire time.
Backhawk and Voodoo Tactical both sell fanny pack holsters, and I have them.  They are good and well made but look just a tad bit more tactical.  The Galco looks a little more low key.
Drawing from a fanny pack is not hard, it just takes a little bit of practice.  For those worried about it, ask yourself is it any harder drawing from the IWB holster with two layers of shirt to get tangled up in?
I love my fanny pack holster, I have everything I need and am comfortable carrying it.
It pairs with my cargo shorts and Crocs, not to mention the stroller and diaper bag.
Laugh all you want, but dad carry is thing.