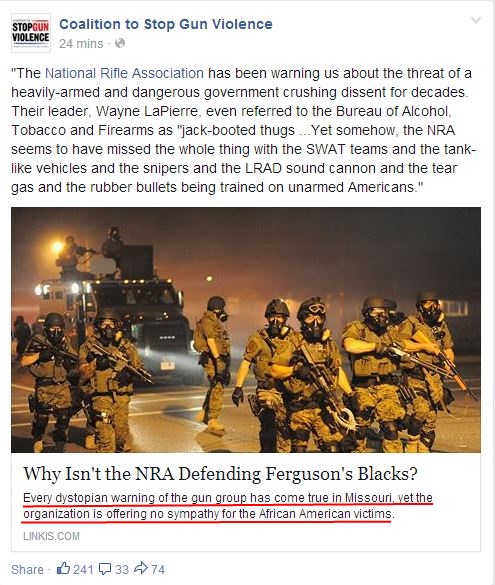 Every dystopian warning of the gun group has come true in Missouri, yet the organization is offering no sympathy for the African American victims.
via Why Isn't the NRA Defending Ferguson's Blacks? – The Daily Beast.
Why? Because the NRA is not a false Do-Good organization that promises to solve all your problems if you only vote for them/give them boatloads of money/appear with the proper media stars.
Unlike Moms Demand or Illegal Mayors or Brady, we are not a selected few telling the little people how to do or behave. The NRA is not a top to bottom organization where the top elite waves like a roman emperor to his subjects. We just simply figure shit has to be done, we get it going and we get it done. No waiting for subsidies.
Hell, we are even aware that many shooters not associated with the NRA benefit from what we do, yet we do not close them out when we win in a court or a legislature but we let them share the spoils. No Union card necessary.
And you still do not get it. You even admit we were right altogether! And that alone is a beauty on its own: Q.E.D.
And that is why we win and we will keep winning.
PS: The NRA could have done something about Ferguson after all: open a booth to sign up for new membership.