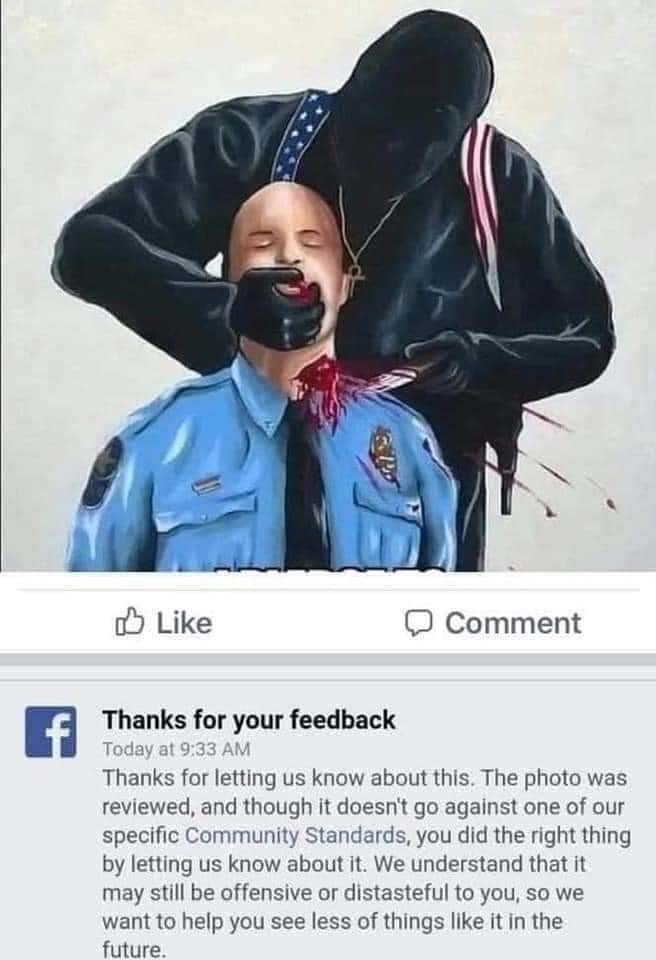 Interesting, no? Go ahead and post the image of a noose and see what happens to you. But we are in a time period that being murderously Anti Cop is well seen and approved.
The point I want to make is that it is  not fruitful to complain anymore but you can still make headways by simply adapting and changing how you use Facebook and other restrictive social media.
I always like to use Paypal as example. The company was one of the first to restrict its use for the transaction of firearms and they blocked countless purchases if you all remember. And I know a lot of you do not use Paypal on principles, but many do because you have learned to "live" under those rules without denying yourselves of the advantage. And I can't think of the billions that Paypal has lost by marrying the wrong side of the Gun argument.
So, we need to stop bitching to Facebook about pics like the one above and figure out what to do. I can't tell you what is best for you, I can't say if you should remove yourself from all platforms, some, be grey and not call attention or what. Your millage may vary.
All I know it is time to switch tactics. Beating our head against the corporate wall is not the solution.