If you haven't been paying attention, Texas is considering going Constitutional Carry.
Most gun rights enthusiasts would think that's great, and it is.  Not so much the Texas Licence to Carry (LTC) instructors.
It's good business in Texas to be an LTC instructor.  Guns are flying off the shelves and record numbers of people are applying for licences.
A quick internet search shows that LTC instructors are booked for weeks and months out.
It's a tedious process to become a certified LTC instructor.
So clearly, Texas going Constitutional Carry is going to cut into their business some.  That is unacceptable to them.  Their paychecks are more important than your rights.
With that greed in mind, a group of LTC instructors sent a letter to the Texas legislature.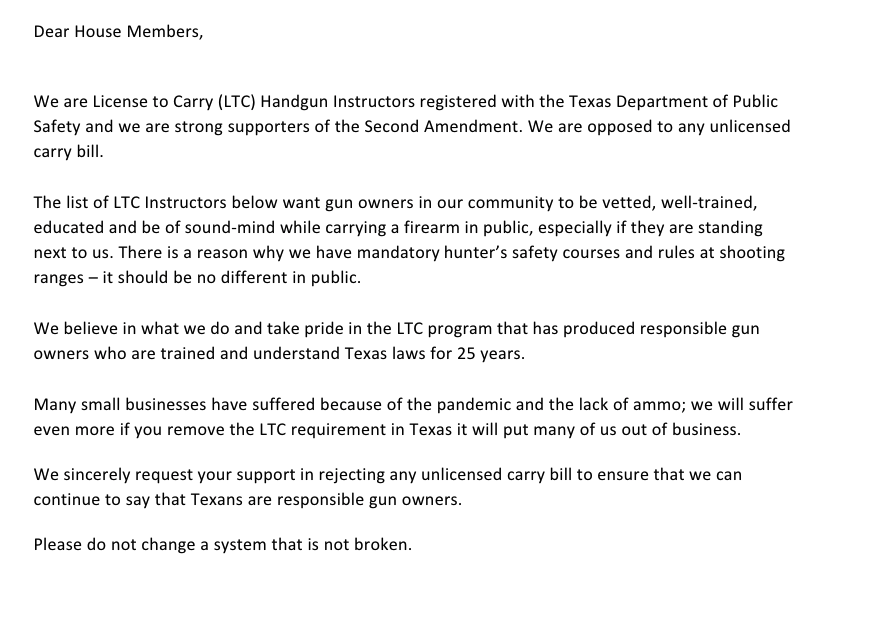 All of these instructors can get fucked.  All.  Of.  Them.
Our rights don't end where their cheddar begins.
I fully support training.  I've said that many times.  I do not like mandatory training because it smacks of the old system of literacy tests to deny people the right to vote.  In Illinois, the legislature deliberately made the training 16 hours to discourage people from getting carry permits, and the cost of two full days of training was expensive, about $600.
LTC instructors could rebrand themselves, they could focus on newbies or women or modify their businesses to do more shooting instruction.  But that takes work and the current system guarantees them a steady stream of customers for classroom time.  So they decided to support the current system to keep the cash rolling in.
Every single instructor who signed that letter should become persona non grata in every gun store and gun range in Texas, for putting the content of their wallets over the rights of the people of Texas.
Fuck 'em.