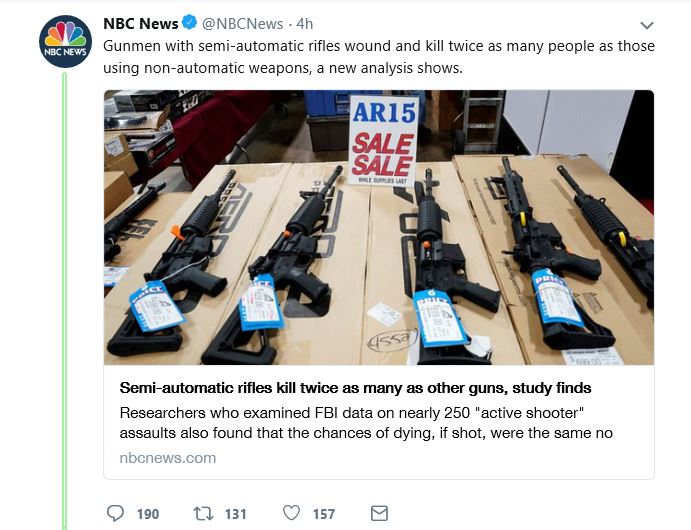 This is possibly one of the most contradictory articles ever written about guns and Active Shooters.  Beside the fact that semi-auto weapons are included in the non-automatic weapons category, we get an initial statement that gets contradicted by the same article.  Did somebody retire and were imbuing alcohol while preparing this confusing facsimile of news?
Exhibit 1)
CHICAGO — Gunmen with semi-automatic rifles wound and kill twice as many people as those using non-automatic weapons, although the chances of dying if shot with either type of weapon are the same, a new analysis shows.
Exhibit 2)
But in "active shooter" attacks, which tend to occur in confined spaces and with an intent to kill, the results suggest that all types of guns are equally deadly, said lead researcher Dr. Adil Haider, a trauma surgeon at Brigham and Women's Hospital in Boston.
Exhibit 3)
Overall, 44 percent of people hit in such attacks involving semi-automatic weapons died, the same as those wounded in attacks with non-automatic weapons, showing that "the death rate if you got hit by a bullet was the same," Haider said.
They are not even trying anymore.