Domestic Abuse best served unarmed.
Originally posted April 27th, 2008.
I found this little tidbit in the website Helpguide.org. Please click on the picture to view full size and check the highlighted part.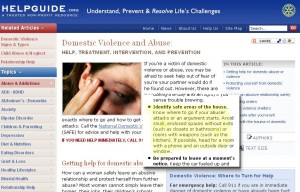 So let me get this straight: You have been a defenseless victim and, in order to avoid having the pulp beaten out of your brain, you must continue to be defenseless to avoid injury? Am I the only one who actually sees the colossal stupidity behind these "instructions"?
But the little voice in my head that goes by the name of Reason clamors: "Miguel, some people might not understand why you are so mad. You better explain." I begrudgingly must grant the point so here it is: When confronted in a home invasion situation, those of us who are into the Personal Defense side of gun ownership, are taught that we must go to a room where we can lock ourselves with our gun(s), and wait for the Bad Guy to either go away or be ready to stop him if he decides to bust in that final door. Having a cell phone to call police is better because Bad Guys actually are known for cutting regular phone lines and leaving victims with a dead piece of cheap plastic and electronics to call nobody for help. If that happens, it is nice to have an actual piece of equipment that would be activated at a moment's notice and stop the intruder rather than an electronic gadget that will either record for posterity the moment of your death, or do basically nothing to stop the attack.
Although somewhat dissimilar both Home Invasion and Domestic Abuse do run under the same principal: you are attacked by somebody at home, where you are supposed to be safe, by somebody who might have the advantage of initiative, surprise and/or power. Your life is at stake and the consequences of inaction can be deadly. You must act with the tools and strength required to stop the attack. Saying "Please Don't Hurt Me" is not going to keep you safe.
So the fact that this article does nothing to empower the victim of domestic abuse when attacked by her abuser. It only ensures that the cycle of violence repeats over and over because we are not politically incorrect enough to show the victim how to stop being one. That is offensive and irresponsible. And that is why I am mad. Political Correctness Kills People.