Sending prayers and love to the Beth Israel community and synagogue family. No one should have to experience this, especially in a place of worship. I cannot imagine the horror folks are feeling.
Hoping for a peaceful resolution.

— Rashida Tlaib (@RashidaTlaib) January 15, 2022
Allow us to follow the connections…
Tlaib to Linda Sarsour:
Rashida Tlaib promotes Linda Sarsour book while wearing T-shirt that says 'Palestine' over map of Israel
Tlaib and Sarsour to CAIR:
Linda Sarsour, Rashida Tlaib Join CAIR Effort to Get Georgia Muslims to the Polls
Tlaib to Billoo:
#FreePalestine always sis! They won't silence us for speaking out against human rights violations. They will lie, smear our names and call us anti this and that, but we always be pro- humanity & we have the truth on our side. Stay strong @ZahraBilloo https://t.co/Q921q5JFc4

— Rashida Tlaib (@RashidaTlaib) September 20, 2019
Billoo to CAIR:
Calling Zionist Synagogues their enemies.
Linda Sarsour and CAIR to Aafia Siddiqui: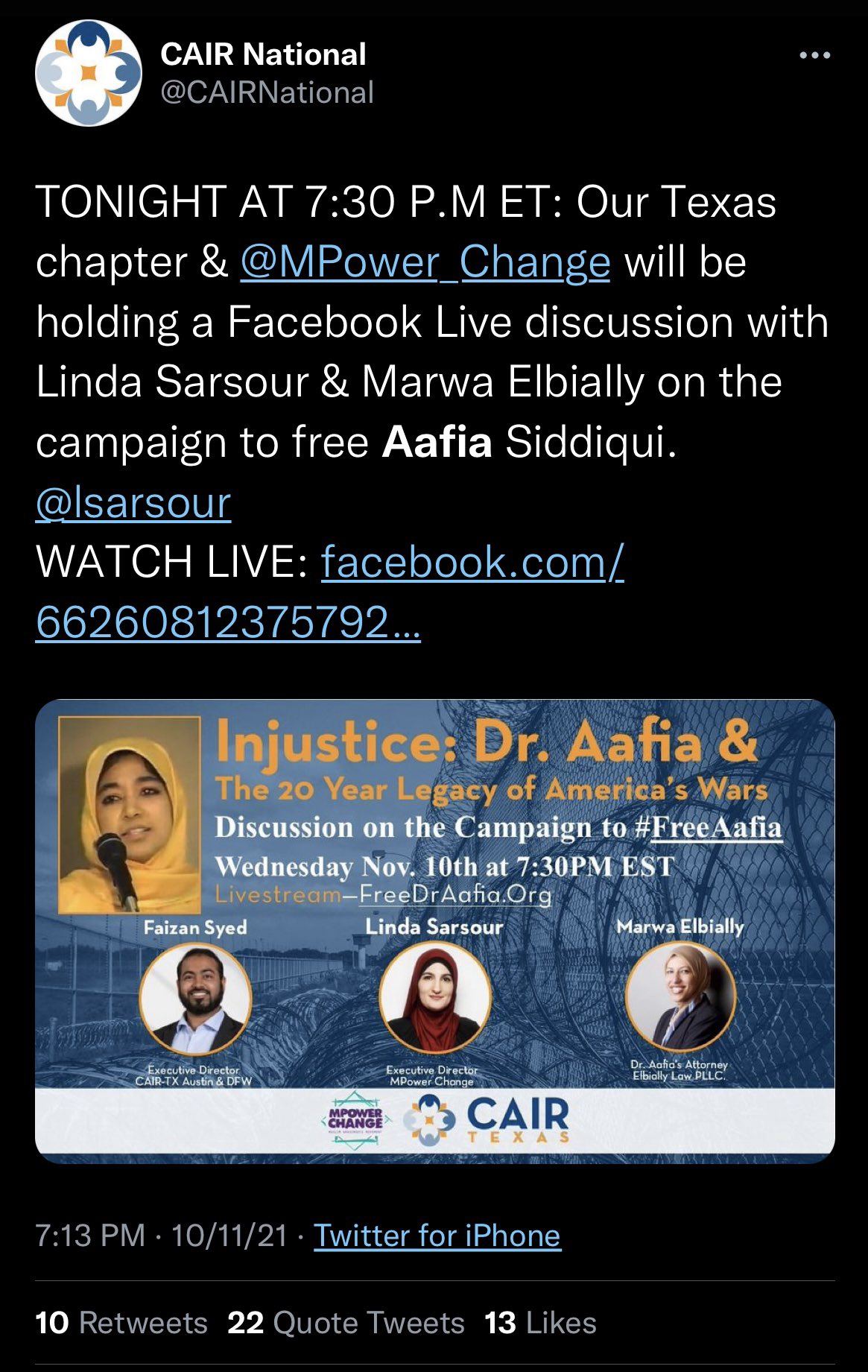 What is that about judging a man by the company he keeps?
Tlaib is never more than an arm's length away from an organization and speakers calling Synagogues their enemies and stumping for the release of a antisemitic Islamist terrorist.
So don't bullshit me that she doesn't want Jews to experience this sort of horror when she pals around with people who want to inflict this sort of terrorism on Jews.