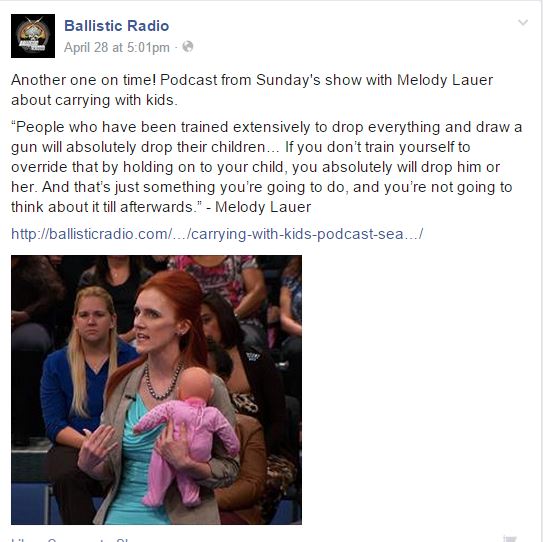 Well, it seems that statement has drawn a lot of butthurt across the Tactical Tommy Interwebs. It seems that Ninja Bois disagree with Melody or they offer some solutions that you see in movies coming from the Far Easy with really bad lip sync. The biggest counter attack has been prove it! Well, I will only share what I have seen.
In our IDPA Club, at least once a year, a Stage With A Baby is run. We even ran it during a Florida State Championship and bar none, it has been the most entertaining stage I have ever ran. Why? Because what some shooters did to the life-size baby doll would have sent them to prison or at least guarantee them a nasty divorce.
The instructions were always clear and repeated twice, more if asked: You were to treat the doll as a real baby. Any mistreatment to the doll would be given a Procedural Penalty by the Safety Officer and you could accumulate as many as you needed. The baby usually started in a chariot or cradle of some sort and you were told LOUDLY that the procedure was to first pick the baby up and then draw your weapon, as to avoid muzzling yourself. Most of the stages provided a safe point where you could gently put the baby down (usually on the ground) behind cover and finish the stage engaging other targets.
So what happened? For most of the shooters was an enlightening stage. That was something they never faced and with the instructions still bouncing in their heads, they did their best to shoot right (one-handed) and carry the baby safely…only to find out it was not that easy. It was hilarious to see usually great shooters become Rain Man while their brain was to come up with a new way to shoot and move and that led to much slower times and less than shinning displays of tactical coolness. Those who sprayed and prayed, suddenly found themselves trying to perform a reload with an arm busy and shook them badly, enough to make some dumb mistakes with the baby. The most common expression at the end of the stage was something akin to "effing baby" demonstrating that it was a teaching experience.
But yes, we had our fair share of "Child Abusers." Dropped babies on both accidental and supposedly categories? Had them. One tried to hold the baby under his chin performing a reload while other placed the baby under his arm like it was a rolled newspaper. One shooter was so dedicated, that somehow started shooting one hand and transitioned to two-hands while keeping the baby in a choke-hold.  One placed the doll on his shoulder like he was going to burp the baby, but what it happened is that the baby fell behind him and he had to pick the baby back up and did so like he was grabbing a bag of groceries and slammed him back on his shoulder. But the best was a friend of mine who did a fantastic job holding the baby all the way to the safe cover, only to spike the baby like a football.
One Hand Shooting is hard by nature. One hand Shooting, under stress while holding a precious cargo and trying to get to a safe location item is amazingly difficult. You know what I think about shooting competitive and specially IDPA and I doubt many Tacticool schools have even thought about this. And by the amount of heat Melody is getting, I am sure  am 100% on the money.
You can follow Melody via her Blog Limatunes' Range Diary or her Facebook Page. And don't let the cute looking petite woman pictures deceive you, she will probably beat 99% of the Tactical Tommies in both Real Life and the range.