The best news so far from Dorian is that even though it is till a nasty and stationary hurricane, overnight took a great dip in power. The NHC 9 am update statement reads
LOCATION…27.1N 78.5W
ABOUT 45 MI…70 KM NNE OF FREEPORT GRAND BAHAMA ISLAND
ABOUT 105 MI…165 KM ENE OF WEST PALM BEACH FLORIDA
MAXIMUM SUSTAINED WINDS…115 MPH…185 KM/H
PRESENT MOVEMENT…NW OR 325 DEGREES AT 1 MPH…2 KM/H
MINIMUM CENTRAL PRESSURE…954 MB…28.17 INCHES
That makes Dorian a weak Category 3 hurricane hopefully on its way to cat 2, thank God. And is FINALLY moving (very slowly) north, making a lot of forecasters happy that they have less egg on their faces. In my case, I just want the darned thing out of the way so rescue & recovery efforts can get started.
Ans always keep an eye on the internal pressure: The higher the number, the weaker the hurricane.  Dorian went as low as 914 millibars when it was doing the sustained 185 mph.
In the meantime over the Weather Channel: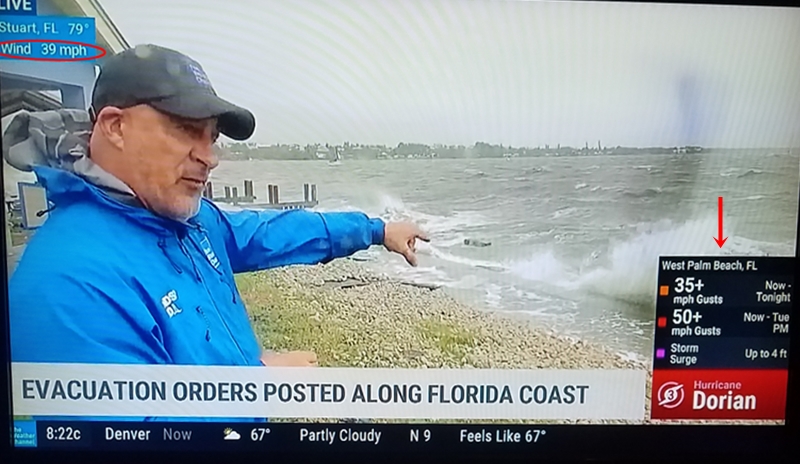 I have to give it to them: They do great marketing trying to sell 50 mph gusts as a major deadly item for the folks down here where we consider anything under 30 mph just a breeze. Yes, there are evacuation orders, but mostly on barrier islands which are the geographical versions of speed bumps. As far as South Florida, old hurricane heads are starting to figure out the danger may be over. Little hints like the lack of winds and the fact that our local forecast no longer has the Tropical Storm Warning, heck not even Tropical Storm Watch!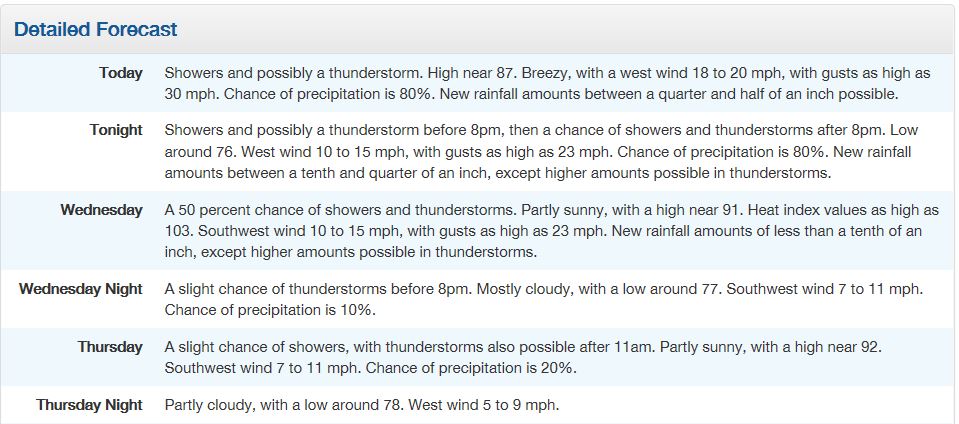 We are going to wait for the 11 AM update and if Dorian seems to continue its northward travel, we will remove some of the panels to access the back porch and let some daylight in.