British eco-zealots who have slashed tires of at least 40 gas-guzzling SUVs in NYC now attack cars in Chicago, San Francisco and Scranton as they 'massively expand' operation after wreaking havoc in UK
The Tire Extinguishers movement, which started in the United Kingdom, has spread to the United States and leaders promised to 'expand massively' in the coming weeks.
New York City was hard hit by the group last month, when the tires of approximately 40 SUVs were deflated on the Upper East Side.
Residents in Chicago, San Francisco, and Scranton, Pennsylvania, were also targeted by the climate activists.
The group is most prominent across the UK and Europe, where activists have allegedly slashed more than 5,000 tires since the movement launched in March.
The Tire Extinguishers claim SUVs and 4×4 vehicles are a 'disaster for our health, our public safety and our climate.'
The group alleges that government officials and policies have 'failed to protect us from this danger' so they have chosen to take action into their own hands.
'We want to make it impossible to own a huge polluting 4×4 in the world's urban areas,' the group's web site states.
'We do this by deflating the tres (sic) of these massive, unnecessary vehicles, causing inconvenience and expense for their owners.'
The group, which publishes its slashing efforts online, took credit for deflating 40 tires in Manhattan last month. Members also targeted 20 vehicles in Chicago, 20 in Scranton and at least 23 in San Francisco.
'It can happen anywhere, anytime,' the spokesperson warned. 'If you're reading this and you own an SUV, scrap it before we get to it.'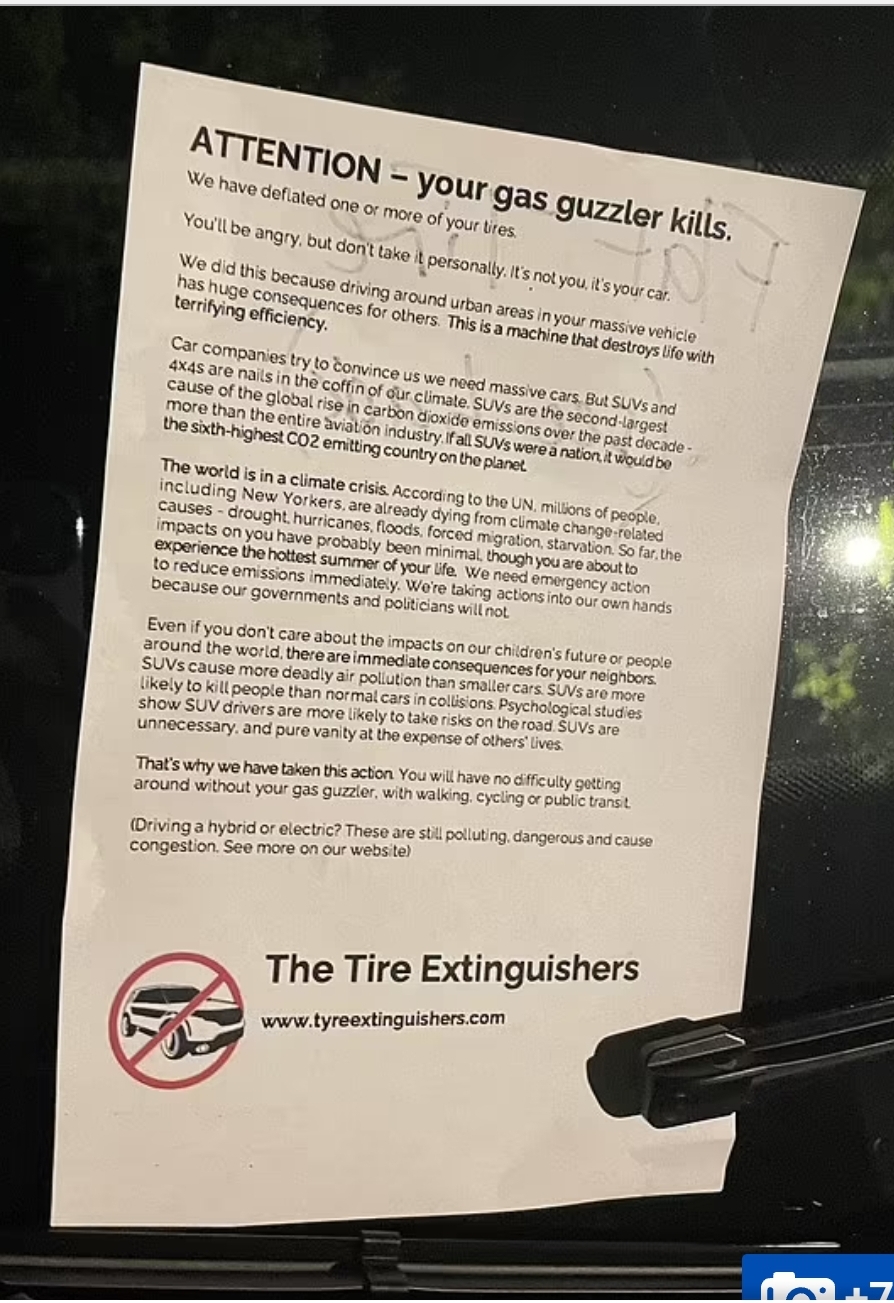 This is unequivocally terrorism.
Truck tires are not cheap, especially the large premium off-road tires, those can easily be $2,000 or more for a set.  Fully deflating the tire can also damage the rim.
Of course these terrorists can and will get away with this in New York, San Francisco, and other deep Blue places, but I can't see this going well for these people in Red areas.
Besides the enforcement of the law, Rednecks are very protective of their trucks.
Of course I'm not advocating the use of violence to defend personal property, that's illegal.
I'm just saying that if some guy who gets caught slashing a set of Yokohama Geolanders gets his teeth knocked in with a tire iron, I wouldn't vote to convict.
But remember, it's white supremacists marching with Betsy Ross flags that are big threat in America right now.  That's what the DOJ says.