Go Woke, go broke.
That is a hard and fast rule of economics.
Dick's Sporting Goods went anti-gun and got hit hard in the bottom line.
The North Face decided to tell an oil company that wanted to buy employees custom fleeces to piss off, despite 100% of their products being made of materials that are petroleum products.
So it was a shock to the gun world when Arc'teryx decided to combine the mistakes of both Dick's and North Face and tell a gun company that wanted custom gear to piss off.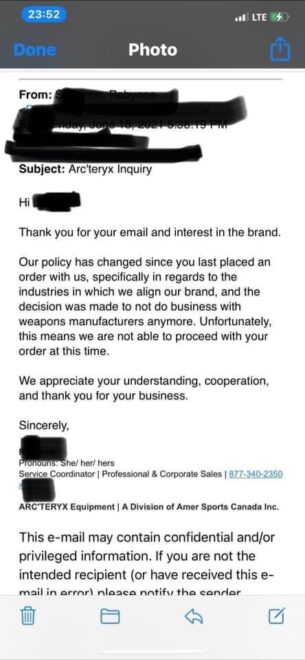 Arc'teryx is extremely popular with the tactical and action shooting crowd and they are also a supplier of military equipment.
This email is the sort of thing that goes around the gun-web quickly and makes the gun world boycott a brand.
Considering that the tactical and action shooting crowd drops money on fancy new toys and equipment like water on a forest fire.
USPSA is a fashionista central of $200 all synthetic tactical pants, Salomon trail running shoes, and the latest and greatest in custom molded Kydex gear on a molle belt.  Apparently, all the money that these guys save on handloading goes into clothing.
If you sell to the tactical world, do not piss off tactical/action shooters unless you want to feel the hurt in your profits.
But I digress…
The good news is that Arc'teryx corporate caught wind of what happened and sent out a five-alarm apology and clarification.
"The email screenshot expressing a restrictive policy on corporate sales to tactical industry business was sent out in error. It does not reflect our current policy. The customer has been notified, apologized to, and been put in touch with a representative from the Arc'teryx LEAF business unit".
So here is what think happened.
Note this important tidbit:

The employee who rejected the request had her pronouns in her signature.
I believe that this Service Coordinator is every bit the stereotype that you'd expect someone with pronouns in her signature to be.
She saw a request from a gun company and unilaterally sent out this "we don't agree with your values" bullshit not realizing the size of the hornets' nest she was kicking.
I can imagine that she was even proud of her decision.  "I told my coworkers that I told a gun company to fuck off, and then everyone in the break room applauded."
Arc'teryx corporate, watching the civilian sales of $250 tactical pants go to zero, panicked and had to apologize and throw that employee under the bus as hard as they could without violating Canadian employment laws.
The most important lesson to learn from this is: anyone with their pronouns in their signature should be fired immediately before they tank your business.