The old "arsenal laws" were dusted and the "ease" ammunition sales and availability is back.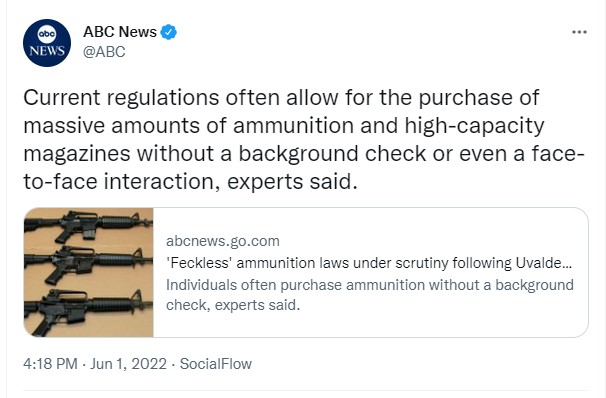 When an 18-year-old shooter arrived last week at Robb Elementary School, in Uvalde, Texas — where he ultimately killed 21 people, including 19 children and two teachers — he carried 1,657 rounds of ammunition, authorities said.

The large number of rounds should not come as a surprise, experts told ABC News. The tragedy drew renewed scrutiny to a collection of state and national laws that regulate ammunition less tightly than firearms, despite the vital role played by ammunition in mass shootings, experts said.

A shooter at a Las Vegas music festival, in 2017, who killed 59, had at least 1,600 rounds. A shooter at an elementary school in Sandy Hook, Connecticut, in 2012, who killed 27, had more than 1,700 rounds of ammunition at his home. And a shooter at a movie theater in Aurora, Colorado, also in 2012, who killed 12, had bought more than 6,000 rounds, officials said.
'Feckless' ammunition laws under scrutiny following Uvalde, other mass shootings – ABC News (go.com)
How do you tell these nannies without them having a collective stroke that US Citizens outmatches the government in ammunition quantities at least seven to one and in the billions? How do you tell them that anybody who is serious about shooting buys the ammo by the case and not by the box at retail unless that is the only way you can lay your hands on it because of the shortage of everybody buying in bulk?
And do not even bring the issue of "unregistered ammunition manufacturing" (also known as reloading your own ammunition) or you will send them straight into spitting foam and screaming at the mindless night.
And don't tell them that because of articles like this, we buy even more ammunition "just in case." What's the case? Oh well…
Hat tip MarcC