Because they are experts on Gun Safety, right?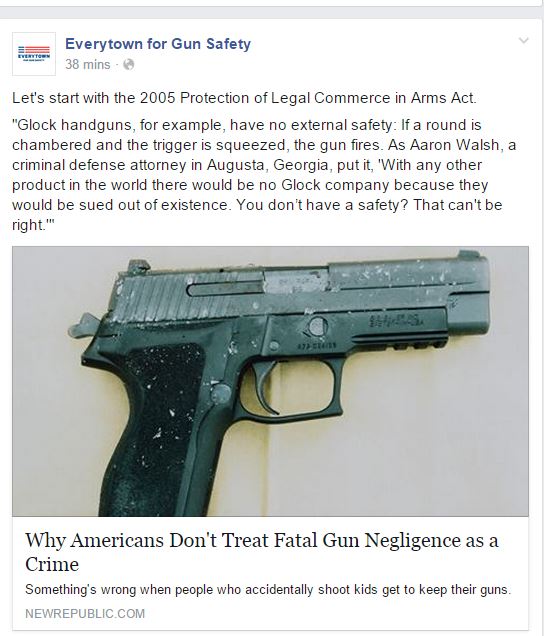 Let's start with the 2005 Protection of Legal Commerce in Arms Act.

"Glock handguns, for example, have no external safety: If a round is chambered and the trigger is squeezed, the gun fires. As Aaron Walsh, a criminal defense attorney in Augusta, Georgia, put it, 'With any other product in the world there would be no Glock company because they would be sued out of existence. You don't have a safety? That can't be right.'"
I won't even go into the fact that this is another old defeated talking point that is being recycled by the New Republic. Instead, I want to ask whomever happens to be working for less than $15 an hour as Social Media intern for Everytown, What were you thinking?
Your boss is one Michael Bloomberg who was the Mayor of New York City for a bunch of years. The NYPD, which he identified as "his" army used and still uses those "Can't Be Right" Glock pistols as official sidearms. And if that was not enough, the official off-duty firearm for the NYPD was until very recently the Kahr CM9, also a "Can't Be Right" pistol without external safety.
So, according to Everytown for Gun Safety, their own boss while being the Mayor of New York City engaged in an irresponsible and dangerous behavior when allowed the more than 30,000 men and women of the NYPD to move around the city while carrying unsafe sidearms?
Dudes, don't crap on your boss. It looks bad.