WASHINGTON — The man accused of killing nine people in a historically black church in South Carolina last month was able to buy the gun used in the attack because of a breakdown in the federal gun background check system, the F.B.I. said Friday.
Despite having previously admitted to drug possession, the man, Dylann Roof, 21, was allowed to buy the .45-caliber handgun because of mistakes by F.B.I. agents, a failure by local prosecutors to respond to a bureau request for more information about his case, and a weakness in federal gun laws.
"We are all sick this happened," said James B. Comey, the F.B.I. director. "We wish we could turn back time. From this vantage point, everything seems obvious."
Source: Background Check Flaw Let Dylann Roof Buy Gun, F.B.I. Says – The New York Times
And right after the heels of this "admission" comes this from Mayor Bloomberg's Gun Control group: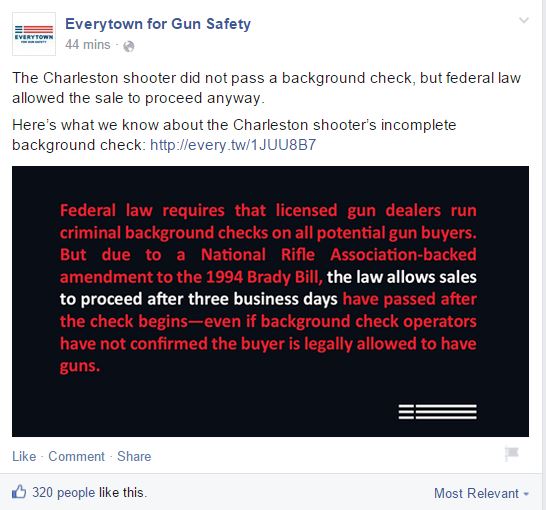 See? It was not the FBI per se or the local prosecutors or the asshole shooter Dylann Roof or the Confederate flag: It Was The Eeeeevil NRA!
Be ready, this means they will want to screw up with the National Instant Criminal Background Check System using Charleston as an excuse. Their target will be finally to impose Universal Background Checks across the land.
PS: Bob Owens reminds you that the FBI Director is more than willing to play  games (read "destroy") with citizen's Constitutional rights for political purposes.
PS 2: Bob chimes away via Facebook.
Everytown is blaming the 3 day rule… even though Roof didn't purchase the gun until five days later. SCOTUS determined in 1997 that a 5 days wait was unconstitutional.

Oops!