After the Senate bill was approved and the news media got it published, the reactions in Social Media were absurd and hilarious.
I picked the reactions of people from a couple of local TV stations in their Facebook page:
The lack of information about the bill is amazing. Of course, this is by design mostly by Gun Control and the Media laps it and regurgitates it to the uninformed idiots.


You maybe have noticed in my updates that I used the expression "volunteer teachers" when talking about this bill. Again, I do believe it has been done by design that the information put out there seem to "suggest" teachers would be forced to carry. which is a lie. This sentiment is repeated over and over, almost being the top selection.


Always with the poor teacher badly paid. It has nothing to do with keeping schools safe and the teachers that volunteer will have their training paid so this is just bitching for bitching's sake.

Again, total ignorance on what's in the bill and the steps a volunteer teacher would have to take in order to become a Guardian.
But I saved the best for last: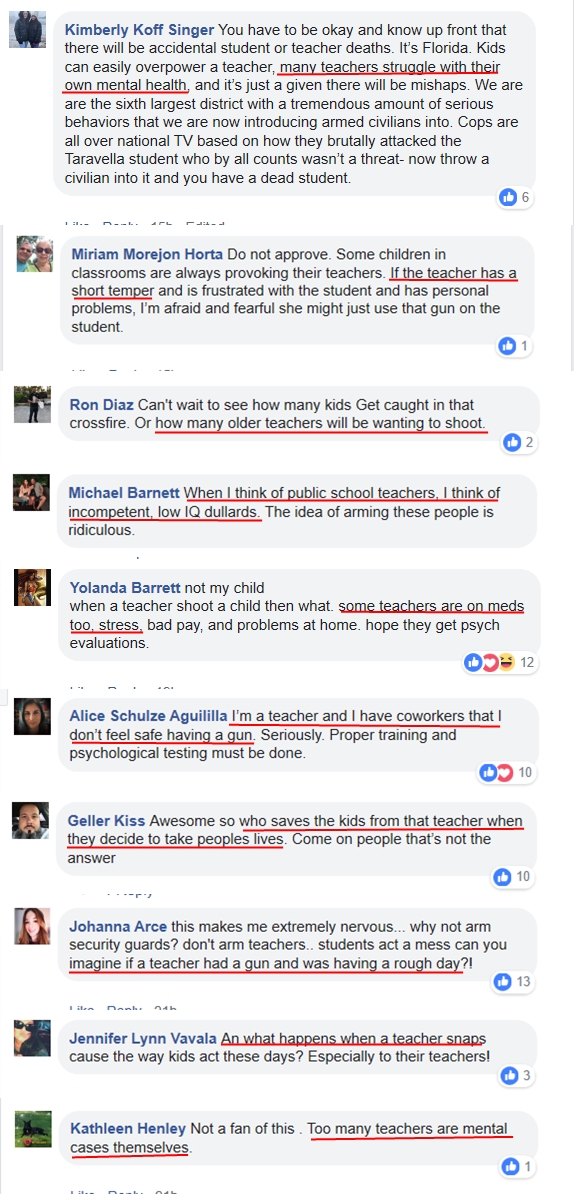 Teachers are mental cases. And that is not only the "informed" opinion of parents but also fellow teachers. All this brings a question: How in the name of God are we letting kids in the hands of people we all "know" to be mentally unstable? If they are that bad, they can snap, ignore the law and bring their gun to class, lock the door and start popping kindergarteners anyway.
But it is easier to crap on teachers for political purposes. The sad part, teachers that are so insulted remain silent so I have to believe they are cowards for not standing up and tell these idiots to shut the hell up, or they are truly sick in the head.