VIOLENT father-and-son drifters Gino and Mark Stocco — who are armed with a high-powered rifle — have been linked to a stolen Toyota Landcruiser as it emerged police came within 100m of the fugitives.Wagga police crime manager Detective-Inspector Darren Cloake told The Daily Telegraph the men were armed with a high-powered SKS rifle, which is a Chinese version of an AK-47.On Friday evening, police came within 100m of the father-and-son who had secured a fence with a chain and lock and cut through other fences anticipating a showdown with police.
Source: Gino and Mark Stocco manhunt: Fugitives armed with AK-47 | HeraldSun
This is outrageous! We cannot have criminal running around with military weapons like that! Maybe we should heed Hillary Clinton's call: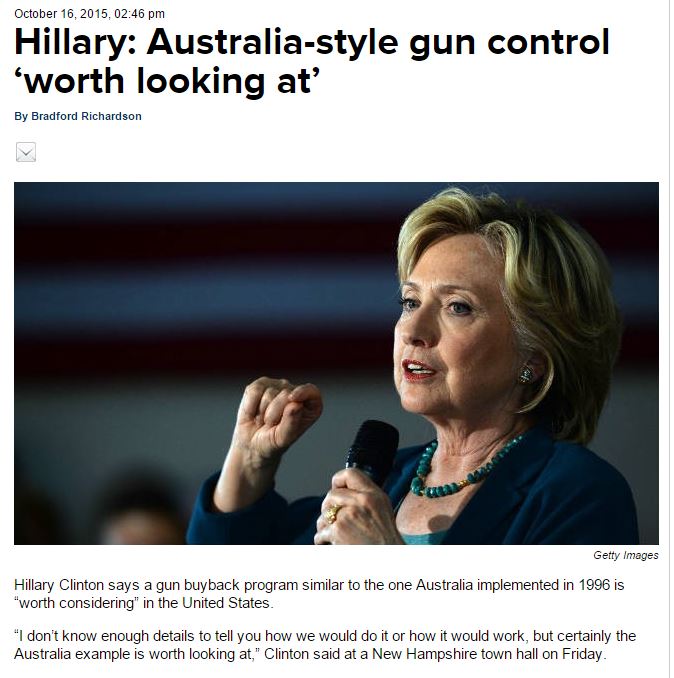 What do you say? Where is Wagga? Let me Google it…wait.. Australia? But…but… that is not supposed to happen anymore! They solved all that stuff when they "bought" the guns back and imposed heavy Gun Control Laws! Unimpossible!
But let's do it anyway because this time it will work. I promise.
Hat Tip to Mark W.