In case you missed it, the Fern Hollow Bride in Pittsburgh, Pennsylvania collapsed when I municipal bus drove over it and ten people were injured.
Recently it came to light that in 2018 a man walking his dog noticed the bridge structure was rusted through and Tweeted the city about it.
@Pgh311 I hope someone is keeping an eye on the underside of the Forbes Avenue bridge over Frick Park? One of the big "X" beams is rusted through entirely (and, yes, I see the cables, so it's probably not a crisis). pic.twitter.com/UQScawPEGQ

— Dr. G Kochanski (@gpk320) December 29, 2018
That is just over three years ago.
According to the Post-Gazette article linked above:
[Mr. Kochanski] said it was just chance that he took the photo. He walks underneath the bridge at least twice a week with his dog, but, on that day, he happened to look up and noticed the detached beam, as well as some cable supports that seemed to have been added more recently to replace any function that the detached beam had provided. From that point on, it worried him.
"Until they removed the rusted beam, I'd look up every time I walked beneath the bridge," he said. "But after that, I kind of figured it was taken care of and I gradually forgot about it."
Mr. Kochanski had seen online that the last documented inspection appeared to have been 2017. Told that Mayor Ed Gainey said Friday morning that there was a much more recent inspection just four months ago, in September, he was stunned.
"If that's true, then somebody did a pretty miserable job of inspecting," he said.
According to 2CBS Pittsburgh:
Pittsburgh Bridge Collapse: Fern Hollow Bridge Had 'Poor' Rating Since 2011
Inspectors have listed the Fern Hollow Bridge in poor condition for more than a decade, although they said other local bridges are actually in worse condition.
Inspectors began listing the bridge in poor condition as far back as 2011, and as recently as last September.
In 2017, inspectors recommended it be overhauled "because of general structure deterioration and inadequate strength," and recommended a restoration project estimated at $1.5 million. That project was never funded.
Now here is an interesting article from April, 2021:
Hundreds of Miles of New Bike Lanes Coming to Pittsburgh
Checking in with the Bike(+) Plan in Pittsburgh.
According to the article, the city of Pittsburgh is making progress on a plan that would bring the city's total of bike lanes above 250 miles. The city last year added 13 miles of bike facilities to an existing 60 miles, according to Karina Ricks, the director of mobility and infrastructure for the city, who is cited throughout the article touting the benefits of bike infrastructure.
This is an image straight from the city's Bike(+) master plan: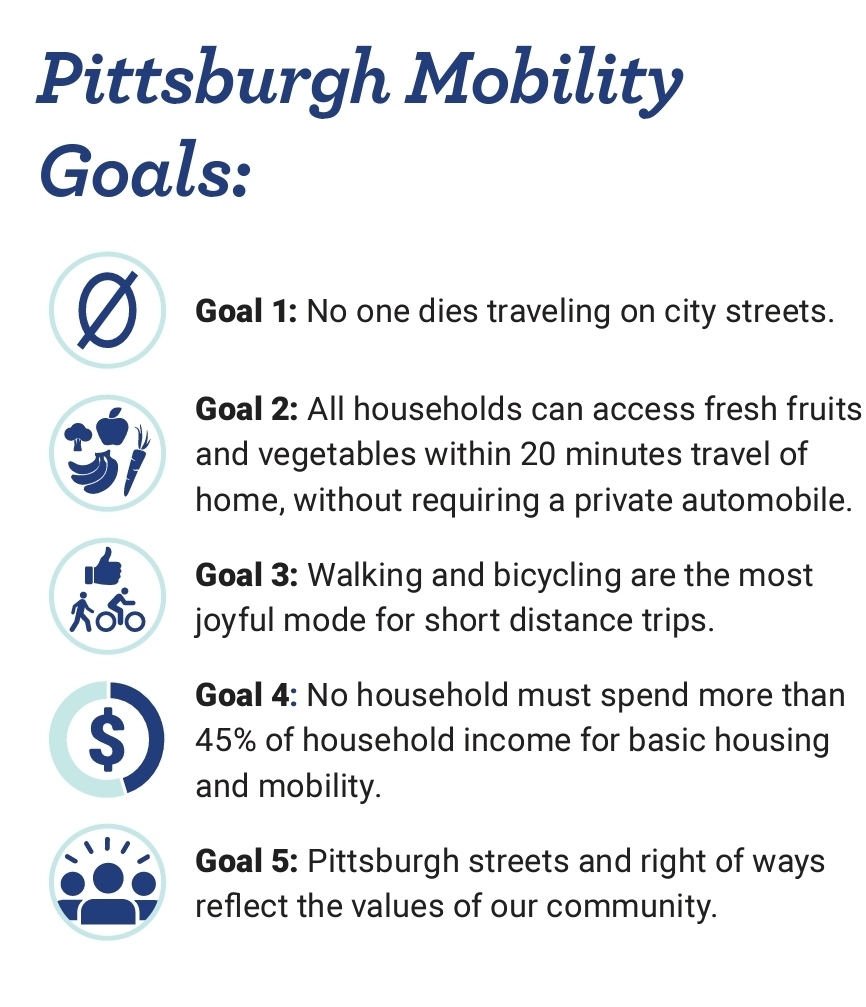 Apparently getting safely home on municipal busses because the brides don't collapse isn't on that list.
Here is another:
Historic Shadyside intersection has become official point of Pride
The corner of Ellsworth and Maryland Avenues has more significance than meets the eye.
In the mid-1990s, when LGBTQ Pride marches in Pittsburgh were small and grassroots, Richard Parsakian and others in the community held a homemade rainbow flag over that intersection.
And now the corner has been memorialized with a recently installed public art project to mark its significance. The intersection is filled with a collage of colors and shapes to represent every group of the LGBTQ community and to signify to visitors and Pittsburghers alike the role the area played in the fight for equal rights.
Now I will be the first to admit that I am not a structural engineer.  But I am a PE in metallurgical engineering and I can tell you that it takes a long fucking time to rust entirely through a girder like that.
I'd also say, albeit slightly outside of my area of expertise, that there is clearly something wrong with the bridge's drainage system if the Salt from the roads covered the steel sub structure and wasn't safely drained away from it.
Also, again not as a structural engineer but someone who a lot about the strength of steel, I'm having a hard time understanding how two tension rods are an adequate replacement for a girder.
Let's put this all together.
The city was well aware that the Fern Hollow Bridge was in poor condition for over a decade.
They did some hackneyed fix to it and it passed inspection barely five months before it collapsed.
The city couldn't find the money to fix that bridge, or others in worse condition, but dies have the money for bike lanes to achieve some Woke goals of reducing car emissions and letting people walk to places where they can buy fresh vegetables.
Bike paths for suburban yuppies to bike to the Whole Foods and LGBT street murals.
That is the government's priorities.
Not fixing bridges with sub structures that have rusted through.
And when the Federal Government gets involved what do they do?
Secretary Paternity Leave tells us how roads and bridges are racist.
I think the problem with the Fern Hollow Bridge was structural corrosion not structural racism.  But what do I know, I'm just an straight white male engineer who believes in objective facts and that 2+2=4.
Our government tells us we're racist if we don't pass a trillion dollar infrastructure bill but the entire time our government knew the bridges were rusty and needed replacement but spent money on bike paths and gay crosswalks until the bridge collapsed and tax paying citizens got hurt.
This is a perfect example of the decadent bullshit that our nation has become.