The NRA sent out this Tweet about a woman who defended herself against an attacker that grabbed her child.
#ArmedCitizen: A #Detroit mother and daughter were leaving for church when a man grabbed one of them and forced his way into their home. The mom retrieved her gun and successfully defended herself and daughter against the violent man. https://t.co/Jk3ZNcRXis

— NRA (@NRA) December 4, 2018
That lead to this exchange initiated by a gun grabber who is #StillWithHer.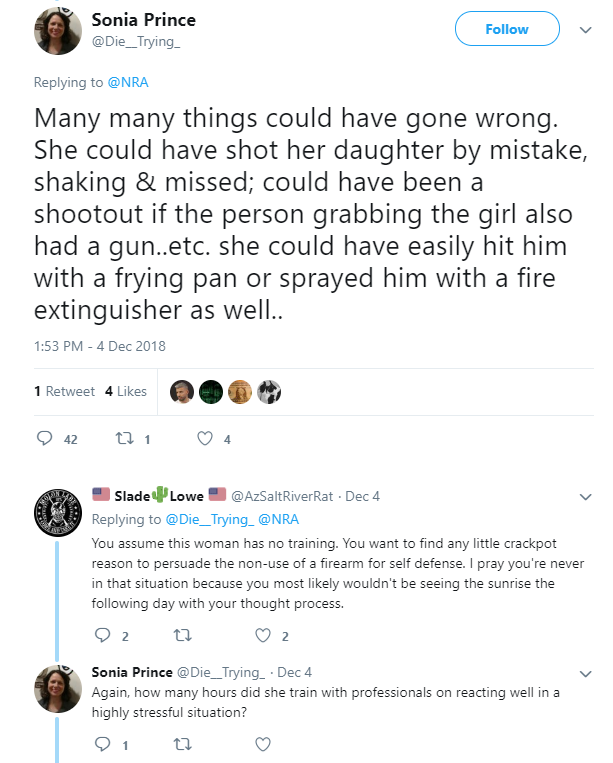 Many things could have gone wrong with the shoot so it's better for the woman to defend herself with a frying pan.
This is what happens when TV and movies are filled with female action heroes that beat up armed men without breaking a heal or a sweat.  Some people get the idea that the average woman can take on the average man in a fight and be victorious.
God created all men and Sam Colt, not Lodge Cast Iron, that made them equal.  Double that for women.
Also, again, training.  I'm not against training.  I am against the idea that training is magic.  The Left seems to believe that government approved instructors have some sort of fairy dust that makes people better.
I'd love to train with Clint Smith.  If I could afford it, that would be my dream mancation.  Still, I don't need to go to his course to practice the fundamentals myself.
When challenged on the stupidity of her frying pan assertion, Ms. Prince went with the Leftist standby of insult and blame Russian Bots.

That's a winning argument if I ever heard one.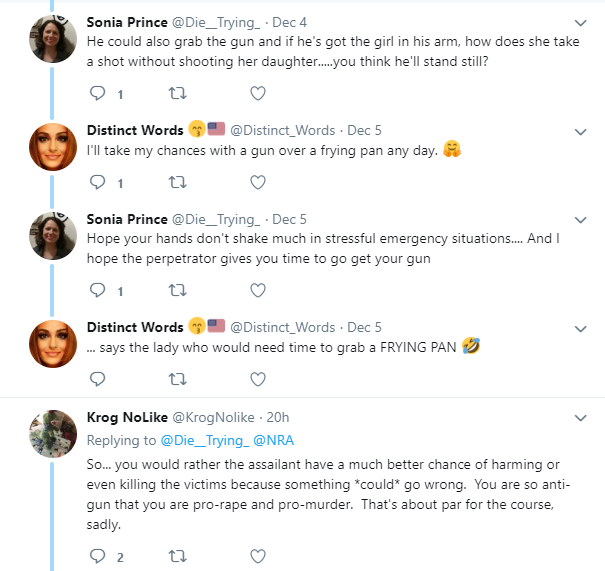 She just doesn't stop.  You shouldn't be allowed to have guns because this defensive shooting went well, but might not have because something could have gone wrong in her imagination.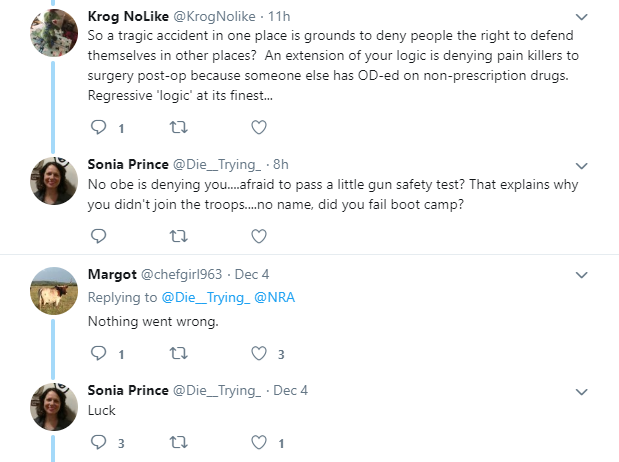 Wow, a Leftist shaming someone for not joining the military, that's new.  Usually it's the other way around (insulting people who joint the military).  So I guess the only training Ms. Prince likes is military training and if you don't have it you shouldn't have guns.
Also, what "gun safety test" applies to this situation?
Lastly, she boils this whole thing down to luck, so you shouldn't have a gun.
There is no rationality with these people.
A bad shoot means you shouldn't have a gun.  A good shoot means you shouldn't have a gun because something bad might have happened.  A no shoot because the CCW was obeying the gun free zone and that means you shouldn't' have guns because CCWs are worthless anyway.
They can make any situation fit their opinion because it's not about facts, it's about their feelings.