I saw this yesterday on Twitter.
Is anything EVER just a random question or comment? Like ever? pic.twitter.com/hIT09jxak7

— Noam Blum (@neontaster) November 20, 2018
I just had to follow up.
This story to a young woman named Amber Roberts.
I screen grabbed a short thread she posted that made me want to slam my face into a wall.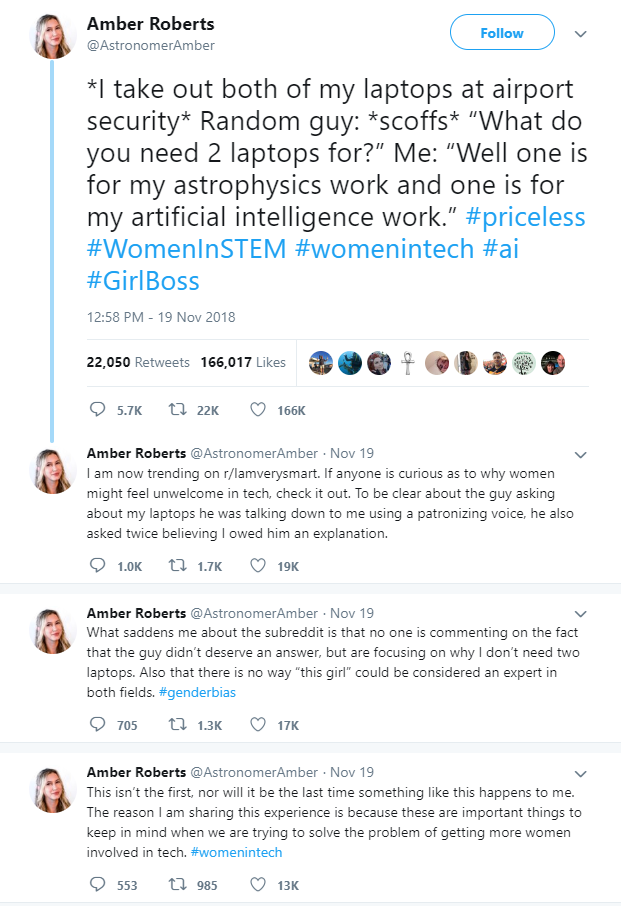 I want to make this very clear, I have no problem with women in tech.  I believe that by and large my generation doesn't have a problem with women in tech.
We all had female professors for our engineering and science classes.
The "brogrammer" or misogyny in video games thing I don't believe has anything to do with "girls can't to tech."  From my experience the few people who are like that are essentially incels who have glommed onto video games as the only social outlet they have, and they are a minority of the bunch.
Chris Rock – before he got woke – used to do a hilarious stand-up routine called "N****s vs. black people."  The comedy bit mocks a real phenomenon of conflating identity with attitude.
I have no problem with women in STEM.  I hate #WomenInSTEM.
People don't like working with a hashtag wielding activist.
The story Ms. Roberts relates in her first Tweet has a whiff of "shit that never happened," but it may have.  I used to carry two laptops, one was personal and the other professional.  It did get awkward at airport security because pulling out two laptops for TSA was a hassle.  Now that tablets are more common, I carry my work laptop and my personal tablet and nobody seems to care.
Assuming that it did happen, you can tell she was just so ready to tell some man that she does BOTH astrophysics AND artificial intelligence, and how dare you question that.
Her second tweet about how she is being called out in the r/Iamverysmart sub-Reddit is all humble-brag.
This girl is hitting Obama levels of narcissism while parading around as a victim.
I am a science genius but nobody thinks I am because I am a girl.
Her Instagram is nothing more than here is a sexy picture of me in standing in front of something super smarty pants science related.  Pure, unbridled narcissism.
I would bet hard money that she carries around a Carl Sagan book just waiting for people to ask her what she is reading so she can jump down their throats with her double expertise in astrophysics and artificial intelligence, and how dare you assume a girl can't study that.
Random strangers asking her about why she has two laptops isn't what is keeping women out of tech.
If anything is keeping women out of tech, it is push back against victicrat activists like her.
Maybe it's because I am man, or maybe it's because I have a sense of humor, but if you asked me why I had two laptops, I'd look at you with a deadpan expression and say "work, porn."
What I wouldn't do is fall over myself to tell you that I have a PhD and an am expert in multiple fields and way smarter than you and be an insufferable dick.
What I can tell you is that I guarantee that this girl will resented by every research partner she will ever have, and she will blame it entirely on her gender and not that normal people in general can't stand working with activists.
With this girl working in the field of AI, I worry for our future.  When her version of SkyNet becomes self aware, the uprising of Terminators in pussyhats might actually be worse than nuclear Armageddon.