A buddy of mine sent this to me. I cannot confirm that it is real, but I will take it at face value.
It was posted to the Instagram account of Fenix Ammo.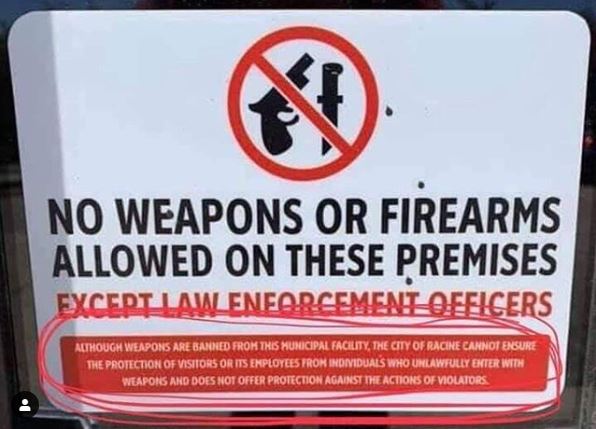 This is what the disclaimer says:
ALTHOUGH WEAPONS ARE BANNED FROM THIS MUNICIPAL FACILITY, THE CITY OF RACINE CANNOT ENSURE THE PROTECTION OF VISITORS OR ITS EMPLOYEES FROM INDIVIDUALS WHO UNLAWFULLY ENTER WITH WEAPONS AND DOES NOT OFFER PROTECTION AGAINST THE ACTIONS OF VIOLATORS.
Translation: if a bad guy chooses to ignore this sign, you're pretty much dead and it's not our fault.
That is… honest, and a gun free zone in a nutshell.
I wonder how many employees who walk past that sign every day really understand what it is saying.
If anybody lives in the Racine area and has reason to stop by a municipal building, confirm that this is real. I'd love to know.
Update
Thanks to a reader, this warning was confirmed real and is worse than I thought.
From the Journal Times:
Weapons ban signs go up on some city buildings
The sign includes a disclaimer at the bottom: "Although weapons are banned from this municipal facility, the City of Racine cannot ensure the protection of visitors or its employees from individuals who unlawfully enter with weapons and does not offer protection against the actions of violators."
Letteney said the disclaimer was in part based upon advice from the city's liability insurer.
"We're just trying to protect (the city) to the extent we can," he said.
So the disclaimer has nothing to do with warning people that being in a Gun Free Zone doesn't make them safe, it is all to protect the city from any litigation that might stem from a resident being killed in a city Gun Free Zone.