A buddy of mine sent me this he got off the Zuckerberg privacy invasion network Facebook.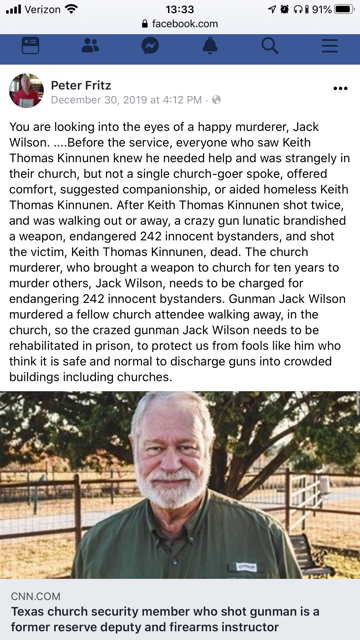 I don't even know where to begin with this.
I went to an Episcopal school from the 6th through 12th grade.  I was taught all about the Christan duty to help others.  But other people need to want to be helped.  Kinnunen went into that Church in disguise with a shotgun to cause some shit and kill people, not seek shelter and redemption.
This post victim blames the parishioners there for apparently not being Christian enough to offer the gunman sanctuary and salvation.  Considering that Kinnunen shot the first person who talked to him, I can't blame them.
After Kinnunen shot and killed two people (one was wounded and died later) it was not a safe assumption to make that he was just going to walk away and not harm anybody else.  Saying that "Kinnunen killed everyone he was going to and should just be allowed to mosey on out of the Church" is an insane proposition.
Wilson is not a murderer, he is a hero.  Nothing in the Abrahamic tradition that prohibits self-defense or the defense of others.  There is nothing Christian about watching as a madman guns down a church full of parishioners.
Wilson did not endanger anybody else in the church.  Even the anti-gun media had to begrudgingly admit that Wilson was a hero – even if they had to constantly remind everyone that he had the magic fairy dust of government sprinkled on him for a few years in the 1980s.
To reverse the situation to make Wilson the mad gunman and Kinnunen a victim who was treated poorly by the Church is unmoored from both reality and morality.
This is a level of anti-gun and anti-CCW that I didn't know it was possible to achieve but apparently someone did.
I just want to know how someone so disconnected from reality is allowed to go around unmedicated.