My wife took the kids to Sunday (Hebrew) school.
She stopped to get gas and this is what she texted me: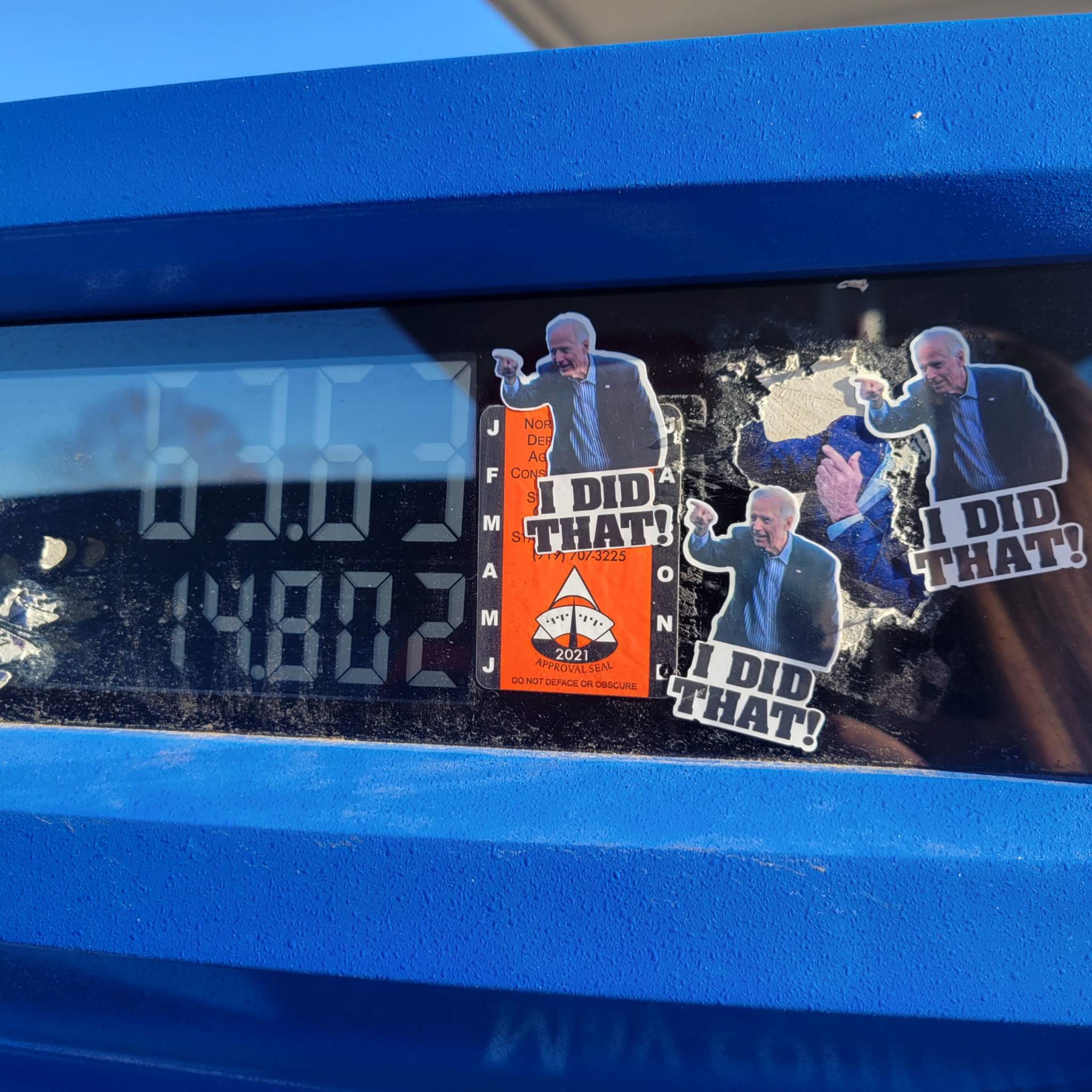 I remember not much more than a year ago when filling up her SUV cost less than $30.
A buddy of mine who still lives in Alabama sent me this:
Alabama gas station manager says he has to remove up to 6 Joe Biden "I did that" stickers from his gas pumps per day. 😂 pic.twitter.com/5OwI6Qrbiu

— Chet Lemond (@ChetLemond) March 4, 2022
But it's not just Red states.
These are going up across the country, even in places like New York City, faster than gas station attendants can take them down.
The interviews from a New York Post article on gas prices are incredible:
Decals of a finger-pointing President Biden, with the words "I did that!" in big, bold print, have been appearing on fuel pumps across the country — including New York City — as gasoline prices skyrocket.
"I just know everything he's been doing since he took office has been going downhill. Bring Trump back," said Harold Frost, 29, of the Upper West Side. "My car has been parked the whole week because of this. I took the train, but it's dangerous now on the train. You gotta be careful."
That's a fucking choice, go broke filling your tank or risk getting mugged and murdered on the subway.
Mayor Melendez, 20, of Brooklyn, said he'll have to make budget cuts elsewhere to fill up his Toyota RAV4
"I just spent $47, and that was only half a tank," he said. "I usually go out to eat on the weekends, and now I can't do that."
Food or gas.
Of course food prices are going up.
I wonder what will happen when it takes $100 to fill up a midsize car and a loaf of bagged sliced sandwich bread is $5.
When middle Americans are paying to make PB&J what they used to pay to make burgers.
When it takes one day's wages of every work week just for the gas to drive to work.
I don't see it stating peaceful.
That level of crushing, grinding you into the mud, poverty makes a civilization unstable.
Right now it's sparky stickers but it's not going to stay this way forever.