From Twitter: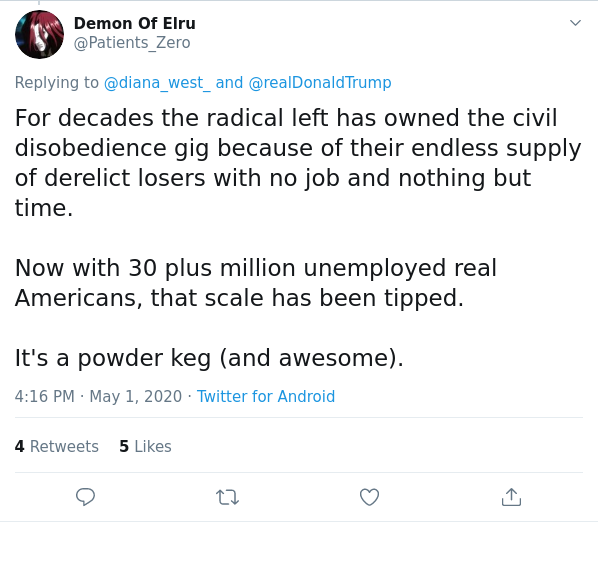 Yep.
This is why I think so many people are fighting so hard for permanent lockdown.
My last week of unemployment was the first week of the federal unemployment subsidy.
I received $278 from my usual Alabama unemployment and $600 from the subsidy.  That is $878 for a week.  In two weeks that would be $1756.
A check of $1756 bi-weekly is equivalent to an pre-tax salary of $55,000 per year or almost $26.50 per hour
If you are a non-essential worker with a salary of less than $55,000 per year and you qualified for maximum unemployment, you make more doing nothing under COVID than you do working.
I suspect that this is why there have been cases of employees ratting out their bosses for keeping jobs open.  Because they want an extended paid vacation at a higher salary.
They can say "you're killing grandma" but really, they don't want the gravy train of collecting an entry-level engineer's salary for watching Netflix all day to end.
The problem is, that is killing business owners and people who have (government declared) non-essential jobs that make more than $55,000 per year.
This is the rumble.
The people for whom the COVID lockdown is a gravy train, backed by the socialists calling themselves Democrats versus the people for whom the COVID lockdown is a financial death sentence backed by the Republicans.
Only one side will win.  The question is: can we sort that out without shooting each other.