Not stocks, hard assets.
I have a Dodge Powerwagon with 27K miles and a Toyota Tundra with 56K miles that I'm sure are appreciating in value faster than my 401(k).
I was sent this picture, I hope it's photo shopped because of it's real it shows you just how absolutely fucked the car market is.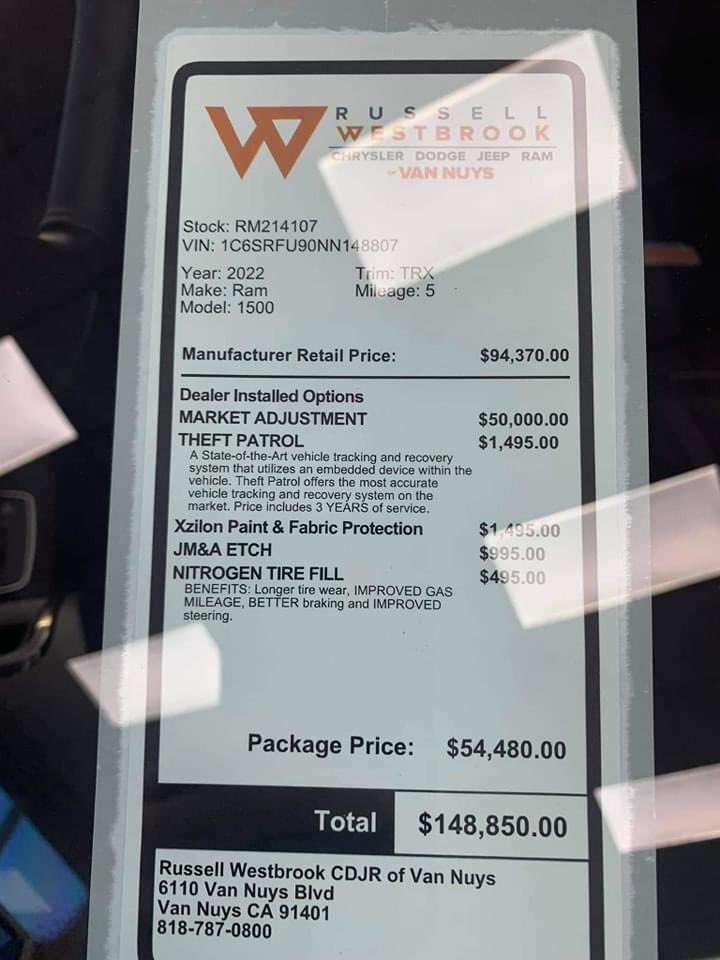 That is a 53% market adjustment.
Autoweek is reporting an average price increases in used cars of 32.7%.
Because it's Biden's goal to make everything worse, he just announced new fuel efficiency standards.
In a major step to fight climate change, the Biden administration is raising vehicle mileage standards to significantly reduce emissions of planet-warming greenhouse gases, reversing a Trump-era rollback that loosened fuel efficiency standards.
A final rule issued Monday would raise mileage standards starting in the 2023 model year, reaching a projected industry-wide target of 40 miles per gallon by 2026. The new standard is 25% higher than a rule finalized by the Trump administration last year and 5% higher than a proposal by the Environmental Protection Agency in August.
Every time fuel efficiency standards go up, so do prices.  The engineering that goes into vehicles increases at a rate that exceeds the normal rate of technology adoption as prices decrease.
Look at the new Toyota Tundra.  They got rid of the naturally aspirated V8.  They have gone to a turbo charged V6.  That is a more expensive engine with a lot more complicated moving parts made out of expensive alloys.  Plus all the R&D that went into the upgrades.  The price for a 2022 Tundra is also way up (MSRP without market adjustment).
So these mandates will drive up the cost of already ridiculously expensive cars.
For the Manhattan/DC elite they don't care.
For everyone else who lives and works where public transportation and car service isn't feasible, it's a fucking financial disaster.
New cars will be the property of the wealthy elite and the rest of us will be holding onto decades old shit-boxes until they are dead because of the cost of a decent used car has become unaffordable.