Caught this in Facebook: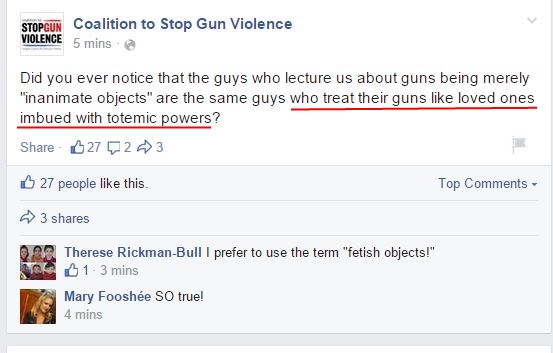 That left me scratching my head. Was my concept of totem different than the regular one? According to Webster:
to·tem

noun \ˈtō-təm\
: something (such as an animal or plant) that is the symbol for a family, tribe, etc., especially among Native Americans

: a usually carved or painted figure that represents such a symbol

: a person or thing that represents an idea
And I can see that, specially in the fan of a brand/model/caliber sub-groups of gun owners. We also consider the possession of firearms as a symbol of freedom and independence., but again, a symbol.
So where the heck this totemic power thing comes from? Google being my alleged friend has the answer. From the World of Warcraft Wiki:
Totemic Power is the 6 part set bonus of The Earthshatterer tier 3 Shaman raid set. It gives the Shaman a ~10% chance to imbue the target with a buff when casting Healing Wave or Lesser Healing Wave.
Those of you into the gaming thing may understand what the hell is that about. I have no earthly (or lunar) idea. The only thing I can surmise is that the CSGV Intern is heavy into online life of that particular game.
And thanks to my advanced Google-Fu, I was able to find video of the CSGV intern:
Another Gun Control mystery solved!