So others get the message.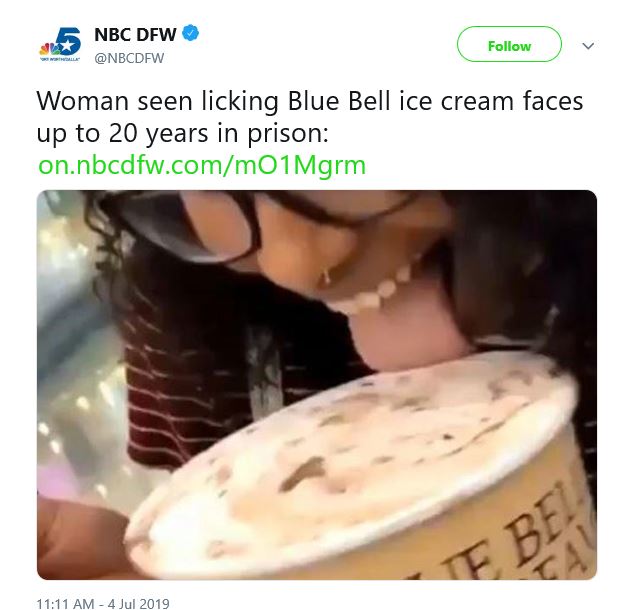 On Friday morning, police said they've identified the girl. She's a juvenile from San Antonio. Because she's a minor, her identity is protected under the Texas Family Code.
The case will be turned over to the Texas Juvenile Justice Department.
Lufkin police said Friday that they don't intend to charge the teen with tampering with a consumer product.
It's not clear if juvenile justice authorities may charge her.
Before it was known that she was a juvenile, Lufkin police said the suspect could face a second-degree felony charge of tampering with a consumer product. The charge comes with a two- to 20-year prison term and up to $10,000 in fines, according to Texas state penal code.
Video of Girl Licking Blue Bell Ice Cream Linked to Store in Texas
One of the things that the USA has done very right is food safety. From refrigeration to packing to food handling, this country has never stopped trying to keep food as safe as possible. You do not hear a recall of a few pounds of a suspect item, but the whole tonnages of a batch. U
So when I see stupid thing like this (which by the way is the new viral thing among teens according to the Democrats need to be able to vote) it boils my blood. She is gonna not only skate out of trouble but her identity be protected because she is a minor.
Rewind a century. Back in the late 1890s, wrecking trains became a thing. Mostly for profit, some because the actors were insane but what amazed everybody back then was the cases where it was done for fun to see the big machine full of people crash in an spectacular fashion. In April 1896 there was a trial of one of three minors named Hildreth who cause the wracking of the New York Central Express train causing death and they were charged with murder. He was found guilty and was given a lenient sentence of Life in Prison. The other two immediately pleaded guilty and were given 40 years. Late the year before another train wrecker, an adult who also caused death, was given the death penalty and back then there was no 15 year wait to execute, he was "hemped" almost immediately. In other wreckers' cases years before that did not cause death but injuries and the obvious loss of property, were given terms between 30 and 40 years vacations in the Big House. After the Hildreth case, train wrecks already becoming scarce, became pretty much inexistent after that. The message that society considered very uncool to screw with the safety of its citizens for thrills and giggles was sounded quite loud and the message heard.
Now, I am not advocating 30 years in the pen for the stupid girl, but a plea of guilty and at least 366 days behind bars appeal to me very much as I see it a way for her to pay for disgraceful and dangerous behavior.