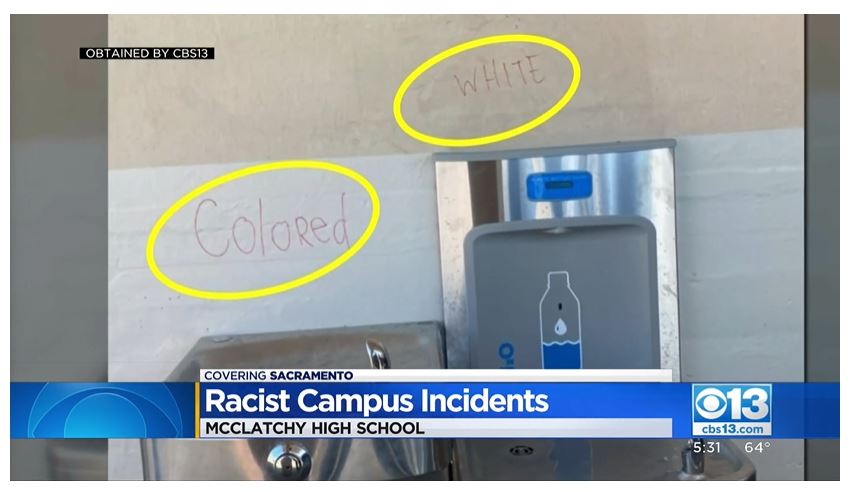 SACRAMENTO (CBS13) — The person responsible for the racist graffiti found at C.K. McClatchy High School last week has been identified, the Sacramento City Unified School District announced Thursday.

Last Friday, someone wrote the words "White" and "Colored" over water fountains at McClatchy High, a reference to the Jim Crow era. The district's race and equity monitor, Mark T. Harris, told CBS13 a Black female student confessed to the vandalism and cameras caught her in action.
You have to be incredibly ignorant or be a political shill to say that specific graffiti was not done with the intention of stirring racial strife. Yet that is precisely what Mr. Harris went on to say: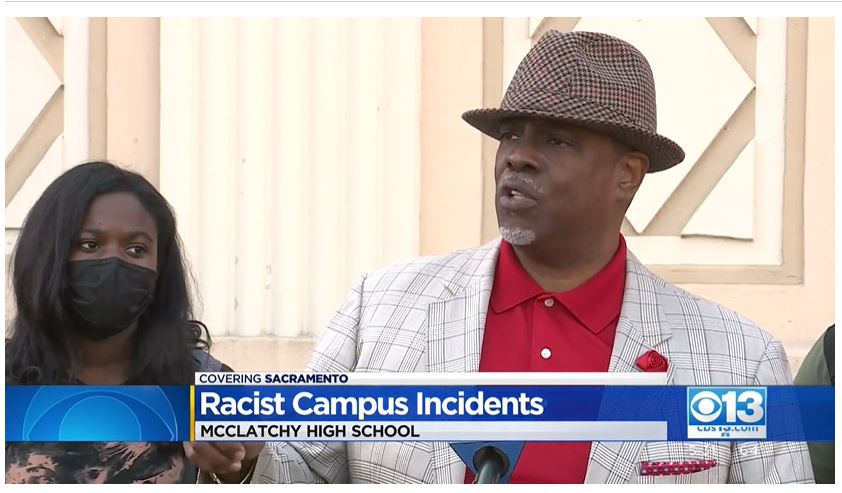 "I don't believe those words that were on those water fountains were racist," Harris said. "I do not believe they were hate crime or hate speech. Part of it quite honestly is because the admitted perpetrator is a young African American woman."
And there you have it folks, it is official. "If we do it, it is not racism." is official policy.
For the briefest of moments, I had a sliver of hope reading the article:
 But community activists like Berry Accius from the Voice of the Youth say there should be zero-tolerance. "I disagree with it not being a hate crime because at the end of the day we understand when you have colored on one water faucet and white on another kind of faucet what that means – whether it's 1950 or 2022," Accius said.
Damn, somebody stepping up to the plate and condemning the action and the actor of a hate crime! Bzzzz! WRONG!
He joined activists from the Sacramento NAACP and Black Youth Leader calling for the district to be more transparent of its findings. They also raised doubts about the confession citing mistrust of the district's handling of racists acts in the past.
It is a Hate Crime, but she did not do it. But wait, you do remember the top of the article, right?
Black female student confessed to the vandalism and cameras caught her in action.
Wait, how in the hell can you argue actual visual evidence? For that I am going to quote South Florida's premier Race Baiter, Leonard Pitts, Jr.
We are trapped in a Groucho Marx routine: "Who are you going to believe, me, or your lying eyes?"
It is like they are intentionally seeking a race war of some kind and expect they will be victorious. I guess it depends on your definition of victory: Political power and control of the country? Doubtful. Making a bundle in funerals, burials and disposal of corpses? About the only thing you could call a victory.