From the Foundation for Economic Infomation:
New Harvard Data (Accidentally) Reveal How Lockdowns Crushed the Working Class While Leaving Elites Unscathed
The picture painted is one of working-class destruction.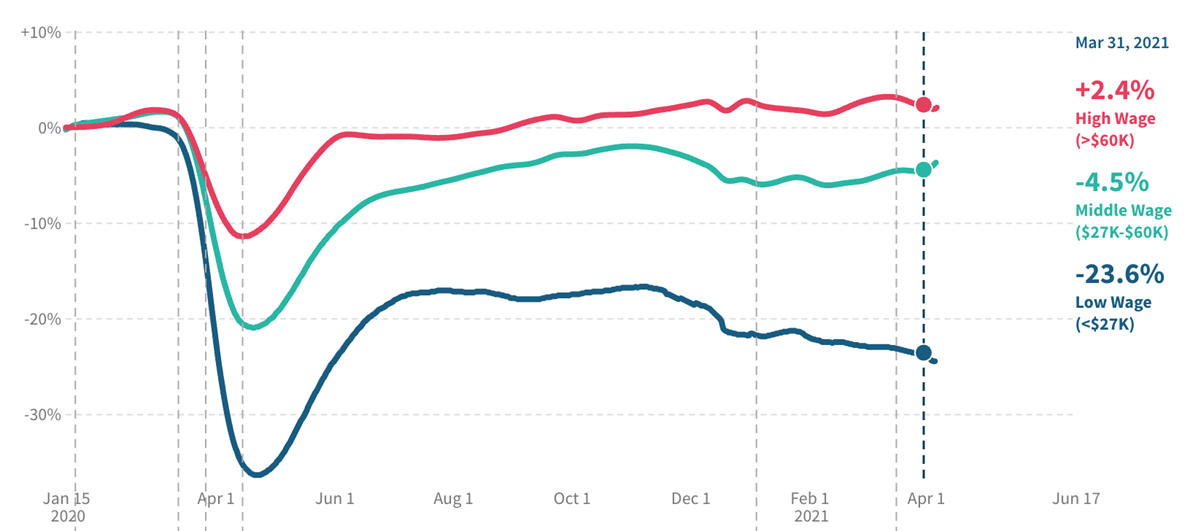 A new data analysis from Harvard University, Brown University, and the Bill and Melinda Gates Foundation calculates how different employment levels have been impacted during the pandemic to date. The findings reveal that government lockdown orders devastated workers at the bottom of the financial food chain but left the upper-tier actually better off.
The analysis examined employment levels in January 2020, before the coronavirus spread widely and before lockdown orders and other restrictions on the economy were implemented. It compared them to employment figures from March 31, 2021.
The picture painted by this comparison is one of working-class destruction.
Employment for lower-wage workers, defined as earning less than $27,000 annually, declined by a whopping 23.6 percent over the time period. Employment for middle-wage workers, defined as earning from $27,000 to $60,000, declined by a modest 4.5 percent. However, employment for high-wage workers, defined as earning more than $60,000, actually increased 2.4 percent over the measured time period despite the country's economic turmoil.
This was the whole point of the lockdown.
The point was anti-Trump politicians and bureaucracy to crush the shit out of the Trump democraphic.
Look at Michigan.  Michigan went for Trump in 2016.  With what Trump did for the auto industry, Trump should have won Michigan by a larger margin.
But Democrat and Trump-hater, Governor Gretchen Whitmer imposed some of the most inane, capricious, and tyrannical lockdown requirements of any governor in the country, and Biden won Michigan in 2020.
Fauci lied.  The other scientists lied.  Everyone lied to crush the fuck out of the Trump demographic, to break them and take their money, as retribution for 2016, and to undermine Trump for 2020.
This was a purposeful and malicious act.
Look at Florida.  DeSantis was a Trump supporter.  Once he realized that the information he was given was bullshit, he did his own thing and Florida did better than most states in both death rate and minimizing economic damage.
The states lead by anti-Tump politicians got the same bullshit info and pushed it harder and harder and suffered worse economically because the point wasn't to save lives, it was to hurt the working-class Trump demographic that couldn't Zoom from their living rooms and keet getting paid.
This was absolute economic warfare pushed by an elite class that figured out how to hurt the working class while getting rich because that is exactly what the elites had been doing for years.
This conclusion is inescapable and Harvard admitted to it.  They aren't even afraid to say it because they assume everyone who voted for Trump and lost their job during the lockdowns is too stupid to read something published by Harvard.
This is Harvard demonstrating how effective their plan was.  They got richer, Trump voters got poorer, non-Trump working-class people became more dependent on government handouts favored by the Left, and Biden won.  Victories all around.  This is a Lefits after-action report on a successful mission.
Trump's biggest blunder was not taking Fauci and everyone pushing lockdowns and mandates and firing them (or, better yet, tossing them out of helicopters over the Potomac) in yearly June 2020.