You may have seen this photo before and during the trial of the guy only known as Jump Kick Man who attacked Kyle Rittenhouse and even he shot him, he got away without a scratch.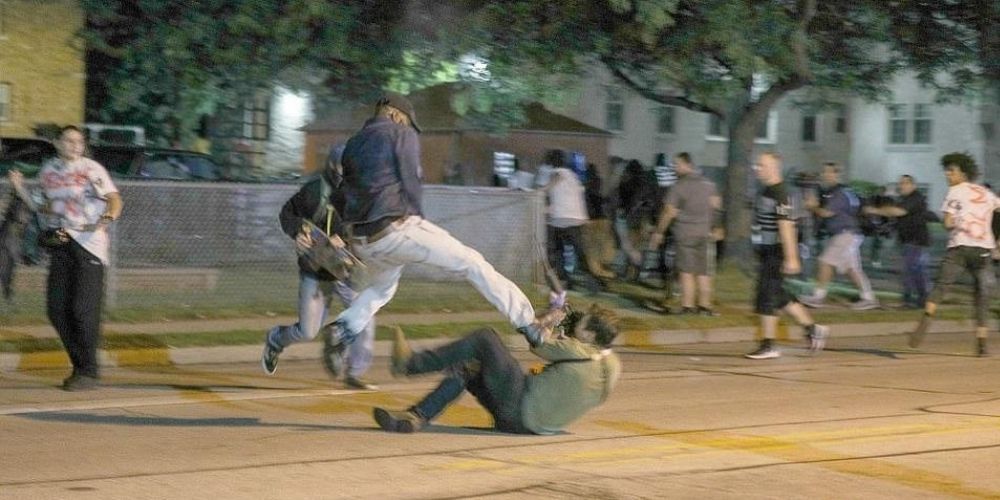 The Dan O'Donnell Show has revealed that Jump Kick Man is a 40-year-old black male from Kenosha, Wisconsin. His name has been withheld "as he has not been criminally charged in connection with the Rittenhouse case," according to the radio show host.
"Sources indicate that he contacted prosecutors and offered to testify, but in exchange requested immunity from an ongoing drunk driving and domestic abuse case with which he was charged in June," according to O'Donnell.
At the time of the shootings, the man was reportedly out on probation following a conviction for domestic violence battery. He originally faced a jail sentence of nine months, but accepted a plea deal less than two months before the August 25 incident.
That plea deal gave the man 12 months probation instead of jail time. He reportedly violated that plea deal the following year, and was sentenced to seven months in jail.
The man has a criminal record that dates back decades, including felony convictions for car theft, drug possession, ID theft, and escaping custody.
BREAKING: 'Jump Kick Man' who attacked Kyle Rittenhouse identified as violent career criminal | The Post Millennial
Holy crap! If you are not convinced the kind of scum and shitheads that Liberal BLM attracts and worse, defend, I don't know what else to tell you.  So I guess the only smart thing ADA Binger did for this case was not to use this guy. I figure they already had a domestic abuser in the narrative and needed no more trouble trying to pass scum as pure innocent victims.
And remember, the prosecutors and the Media were shocked and dismayed that they scumbags shot and killed by Rittenhouse could not be tagged as "victims," then again it id hard to do when your selection comes from the societal gutter.