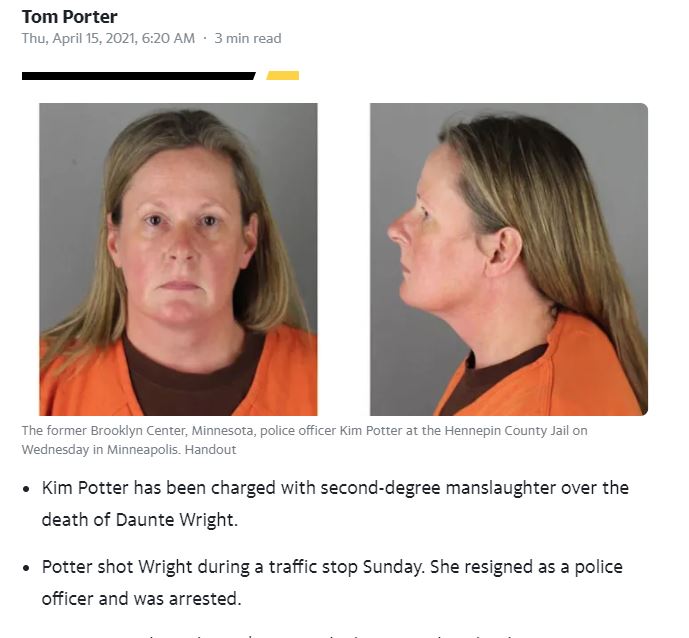 Black Lives Matter and Antifa are now satisfied, "peaceful protests" are over  and peace has returned to Minneapolis. Justice has been served
(insert laugh track here)
A black man tried discouraging #antifa from being violent at the Brooklyn Center, Minn. protest (they're throwing projectiles). He stands directly in front of them. Powerful video by @BGOnTheScene #DaunteWright #BLM pic.twitter.com/lOQCrOYL4g

— Andy Ngô (@MrAndyNgo) April 15, 2021
#Minnesota police arrested 24 people for violating the curfew and inciting riots on the fourth night of protests against the fatal police shooting of Black man #DaunteWright in #BrooklynCenter https://t.co/aPNAJ3wj93 pic.twitter.com/aINe3i0Z5V

— Atlantide (@Atlantide4world) April 15, 2021
Photo by @johnminchillo from the fourth night of clashes with authorities and #BlackLivesMatter protestors outside the #BrooklynCenter Police Department as protests over the police shooting death of #DaunteWright continue, Wednesday, April 14, 2021. pic.twitter.com/NOzIOxMF1g

— Martin Williams (@MartinWilliam95) April 15, 2021
It has never been about Justice, social or otherwise. For the left, Black people are just a tool to be used in the disruption of our way of life and their acquisition of power.  And this goes back at least 90 years, all the way back toSocialists and Communists trying to "organize" them into unions and sending them to clash with cops…or simply killing them if they dares to be scabs.
Once the Revolution succeeds, they will be sent back to their ghettos to wait for the rewards that will never come.
---
And special mention goes to the CNN journalists covering the "peaceful protests"
In my 25 years as a reporter I have NEVER heard police in America actually say "journalists will be arrested" during a protests. But that happened in #BrooklynCenter last night. We stayed. The citizens are why we stay. I took this moments aft the announcement #DaunteWright pic.twitter.com/rMU0fEyJKU

— Sara Sidner (@sarasidnerCNN) April 14, 2021
?? #CNN crew chased out of #BrooklynCenter BLM protest.

Protesters proceeded to pelt them with eggs as they left. pic.twitter.com/IdCsvuS0ZP

— KreatelyOSINT (@KreatelyOSINT) April 15, 2021

Well, how does it feel to be used, hated and despised? That is the problem with whores that transmit diseases.
And with the revelations from Project Veritas, it has been a really shitty week for CNN and it is only Thursday.
It will be a glorious day when the CNN building is sold to pay off its debts and their people sent to school to #LearnToCode