"In the same area that Gabby Petito disappeared, 710 indigenous people— mostly girls—disappeared between the years of 2011 and 2020 but their stories didn't lead news cycles …" https://t.co/HJ01B6CsRK

— Eugene Scott (@Eugene_Scott) September 21, 2021
I know nothing about the Gabby Petition case.
What I do know is that domestic violence, overwhelmingly exists within the same racial/ethnic/cultural groups.
It's not difficult to understand why.  The majority of people still date and marry within their identity group, and it's within the confines of these relationships that the violence happens.
Q.E.D.
I lived in South Dakota for six years.  I got to be quite familiar with the Lakota Sioux.
The rate of domestic violence and rape among the Sioux was off the fucking charts.
It was a combination of factors, including severe alcohol abuse, a grinding poverty of learned helplessness and government dependency that resulted in generational hopelessness, and a patriarchal culture that disrespected women.
Gang rapes by drunken men were not uncommon.
Domestic violence during drunken arguments was a common cause for arrest.  I'd watch my neighbors get arrested frequently for this very thing.
I remember my wife crying because we could hear one drunken violent fight coming through the walls of our shitty apartment from next door until the cops arrived.
Everyone knew this.
Locally, some people tried to do something about it.
Politically, it was a third rail.
It was racist to discuss the problem of drunken natives.  It was racist to discuss the dropout rate, welfare statistics, etc.
Whenever the topic of Native kids dropping out of schools came up, the response was "can you blame them for hating school given the history of Indian Residential Schools?"
But that excuse making never fixed the problem and Native kids dropped out or flunked out or got kicked out for behavior problems and the cycle continued.
It was a heresy to do a news story that put Natives in a bad light.  They were victims, abused by the government, living on the scraps of land they were allowed to have after America stole the rest.
But that meant when some Native girl got gang raped or abducted or beat to death or shot in a feud on the reservation or in the Native community, the story was buried.
So the media right now is suffering a philosophical crisis of their own creation.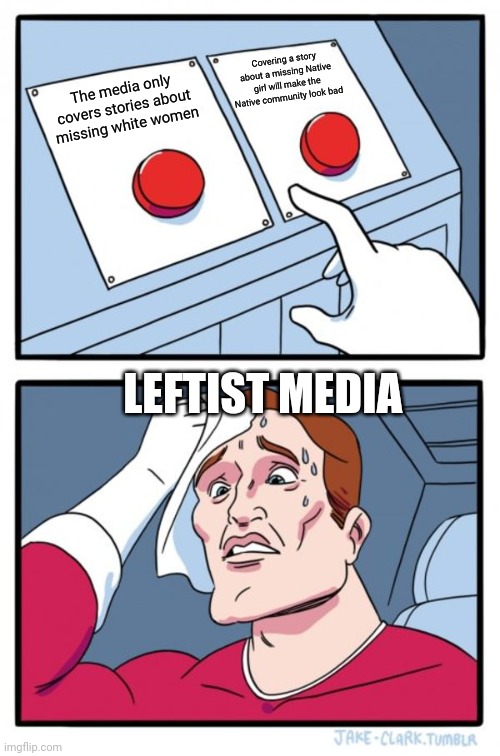 This is what happens when they care more about the narrative than the truth, eventually that causes contradictory pinch points.