Antifa and Black Lives Matter have joined in "solidarity" with the Palestinians murdering Jewish civilians in Israel.
They really don't care about the quality of life of Palestinians in Gaza living under Hamas.  They just hate Jews and anything their hate can nucleate and consense around to precipitate violence is a good enough excuse to protest/riot/attack people.
Washington DC:
Protestors block a truck from turning into 17th street. Police talk to him, potentially telling him he won't be able to pass through. pic.twitter.com/ZYv39yfWHw

— Hannah Nightingale (@HannahNighting) May 11, 2021
Portland:
During the "Stop Jerusalem Expulsion" event by #antifa in downtown Portland today, they follow & threaten a group of people in the street. pic.twitter.com/obInkIXjC5

— Andy Ngô 🏳️‍🌈 (@MrAndyNgo) May 12, 2021
New York City:
"From the river to the sea, Palestine will be free" chants echo across the street from the Israeli consulate pic.twitter.com/xilADfWS2L

— Elad Eliahu (@elaadeliahu) May 11, 2021
https://twitter.com/StopAntisemites/status/1392307979077226498
Man left severely bloodied by anti-Israel protester(s) in NYC today. Graphic video by @elaadeliahu: pic.twitter.com/cWEakjmcTF

— Andy Ngô 🏳️‍🌈 (@MrAndyNgo) May 12, 2021
"This guy's a f—king chud…he's pro Israeli!"

Chilling video shows an #antifa extremist trying to incite mob violence against videographer @elaadeliahu in NYC: pic.twitter.com/ZWzI9ufBGe

— Andy Ngô 🏳️‍🌈 (@MrAndyNgo) May 12, 2021
One Leftist group, Decolonize This Space, went further and encouraged violence against Jews online.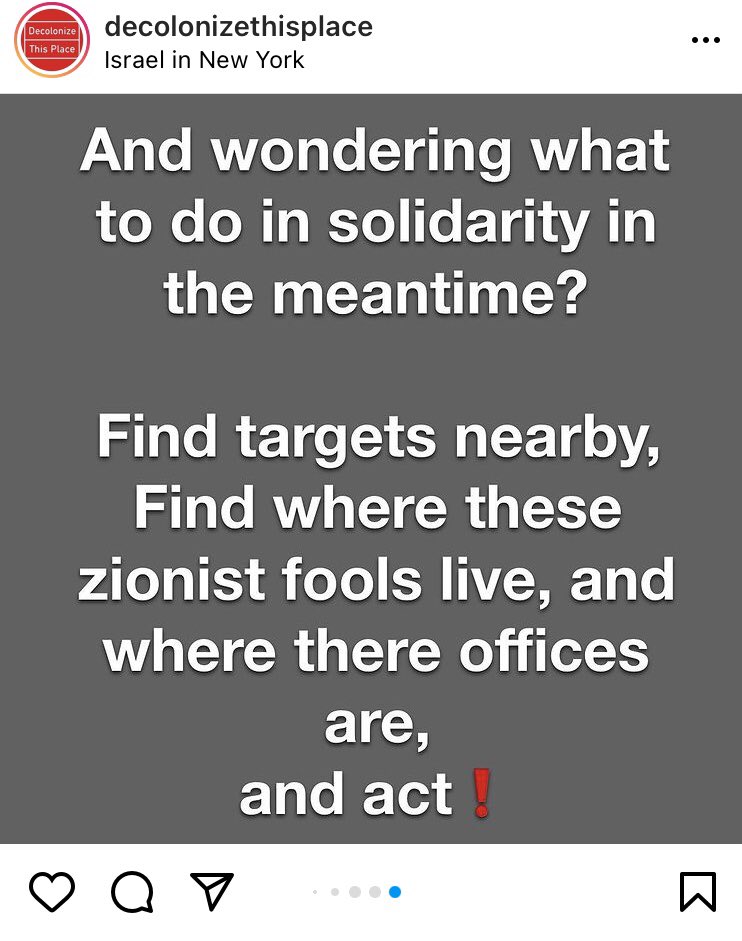 Radical Leftists will go out and beat up and possibly kill Jews while feeling virtuous for it.
I've seen this before.  I know how it ends.
I was raised by my dad to believe that "never again" had to be backed up with bullets.
I didn't have "Defend my family from a Pogrom" on my 2021 Bingo card, but here we are.