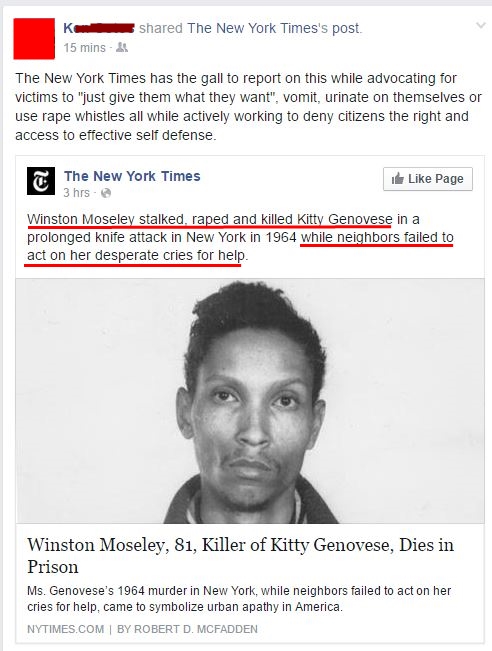 It has been over half a century and it seems the inhabitants of NYC still have not learned their lesson. And I do not mean that they tend to be uncaring bastards or not, but that they have been pretty consistent in voting for the politicians that have perpetuated the manufacturing of more Kitty Genoveses through these 52 years while keeping Winston Moseley  taxpayer subsidized with three cots and a roof with free medical and dental.
Just imagine the untold billions of dollars wasted in unnecessary (and failed) police work and the gradual descent into a New York resembling closely to a Snake Plissken world of surveillance and control. Most of the rest of the country has rejected the Sullivan Law versions they had in each state and has progressed to recognize the individual's right not only to defend himself but the moral right to come to the aid of the innocent.
But if that is what they chose to live in, have at it and enjoy it. But please keep your whining complains to yourselves and the NYC need to but in and make the rest of the country as miserable as you. Gun Control Carpetbaggers are not welcome.