I've written twice now about how the Democrats are nuking the justice system because they lost the 2016 election.
There is nothing but political theater here.
Senator Feinstein sat on the letter until the 11th hour before dropping it believing that Dr. Ford wouldn't ever become known to the public.
The public didn't buy the anonymous accuser bit so Dr. Ford eventually had to come public.  She was going to testify, but has decided not to until the FBI has finished investigating, which the FBI says it won't do because it's not a federal crime and there is no evidence they can use to start an investigation.  So…. Dr. Ford will never testify.
Senator Mazie Hirono, who is publicly wiping her ass with the 4th and 5th Amendments of the Bill of Rights, has gone on the record that she thinks the Senate can hold open this seat for two more years until the Democrats retake the Oval Office in 2020.
Every Lefty on social media is screaming Merrick Garland, making it clear that this assault on Kavanaugh is nothing but an honor killing for pulling a Biden on Obama.
This has caused the crazies to come out of the woodwork so much that nothing is believable anymore.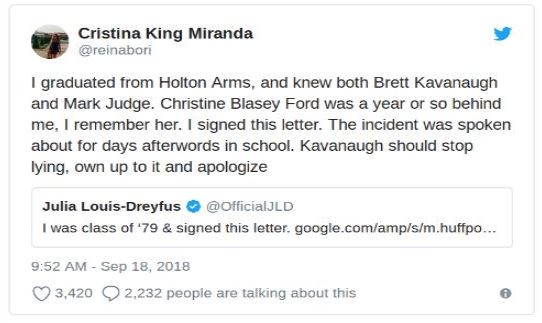 But in the Washington Post, Dr. Ford said that she didn't tell anybody about the attack until 2012 and that it happened during the summer.  So clearly Cristina King Miranda is lying.  Furthermore, if this was "spoken about for days afterwards" how come nobody else came forward?  That's what I thought…
Regardless of the outcome of this, the damage is already done.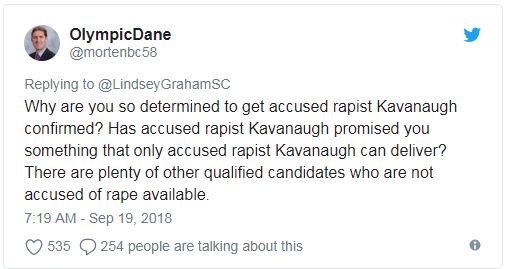 He is no longer "Judge Kavanaugh" and he won't ever be "Justice Kavanaugh" for these people. He will forever be "accused rapist Kavanaugh" for the people in the Resistance.
Jonah Goldberg wrote a beautiful OpEd for the LA Times that really sums this up nicely.
What Goldberg does not do it offer any kind of solution.
I have one.
Senator Lindsey Graham understands why the Democrats are doing what they are doing.
Requiring an FBI investigation of a 36 year old allegation (without specific references to time or location) before Professor Ford will appear before the Judiciary Committee is not about finding the truth, but delaying the process till after the midterm elections.

— Lindsey Graham (@LindseyGrahamSC) September 19, 2018
MAD.  Mutually Assured Destruction.
Fight nukes with nukes.
Put the confirmation vote back on the docket for Thursday of next week.
Have Dr. Ford testify under oath in full view up the public.
If she provides no more evidence or the Democrats make a scene and turn it into a circus.
Confirm Kavanaugh.
To let the Democrats delay this one day is a win.  To let them take out Kavanaugh as a casualty in their war on Trump is a huge win.  It would make Trump a lame duck with more than two years left in his first term.
The Democrats used to wield the word "racist" like a weapon, capable of striking down any opponent in their way.  Conservatives caught on and that lost its power.
Now they have replaced the "c" with a "p" and have a brand new weapon to wield.
If they get away with this, no Republican could ever run ever again.  All the Democrats would need to do is find some former high school classmate willing to accuse a candidate of sexual misconduct half a century ago.
If that happens, we might as well start the shooting now, because we are headed for a Hitlarian or Stalinist purge, but instead of accusations of treason and execution, it is accusations of sexual misconduct and the total destruction of a person's income and livelihood on national TV.
Ask yourself is that any worse?  To one day find everything you built yourself up to be, torn down, so you end up jobless and unemployable, shamed in front of your family.
That cannot be the tactic that is allowed to win.
Confirm Kavanaugh by close of business Thursday or surrender the nation.
Those are your choices.