Sunday, July 28, 2019 11:21PMBROWNSVILLE, Brooklyn (WABC) — Police are searching for at least two shooters after gunfire erupted during an event at a playground in Brooklyn Saturday night, leaving 12 people shot, one fatally.

The shooting happened just before 11 p.m. at a park near Christopher Avenue and Hegeman Avenue in Brownsville.
1 dead, 11 wounded in shooting on playground in Brooklyn
July 28, 2019, 9:38 PM EDT / Updated July 29, 2019, 8:04 AM EDT
At least three people were killed and 15 other people injured in a shooting at the Gilroy Garlic Festival in Northern California after a suspect, wearing tactical gear and armed with an assault rifle, opened fire, authorities and witnesses said Sunday night.

"It's sort of a nightmare you hope you never have to live in reality," Gilroy Police Chief Scot Smithee said at a news conference
Three dead, suspect killed in shooting at Gilroy Garlic Festival in California
Two states that pride themselves on having the toughest gun laws and stating up to the NRA managed to get a mass event in less than 24 hours of each other.
Of course, Twitter was taken over those who wanted even more failure.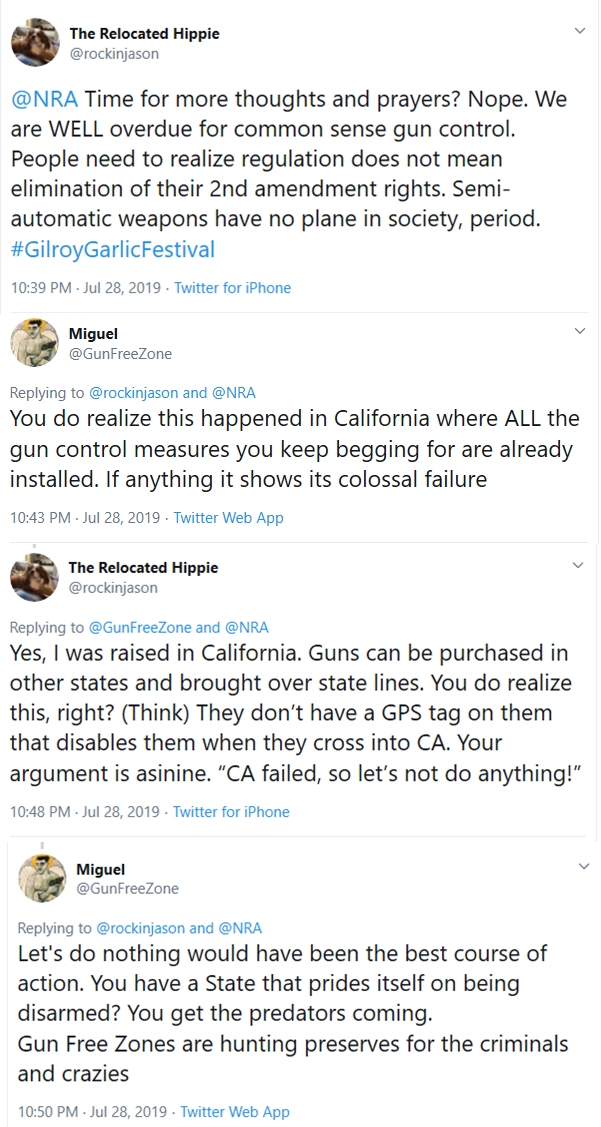 I am sure we will hear nothing but more Gun Control all day today, specially from the Democratic Presidential hopefuls who will swear that like Socialism, ,ore Gun Control is the answer to peace.