In case you have not herd, a homeowner successfully defended himself and family from three masked home invader t the wee hours of the night.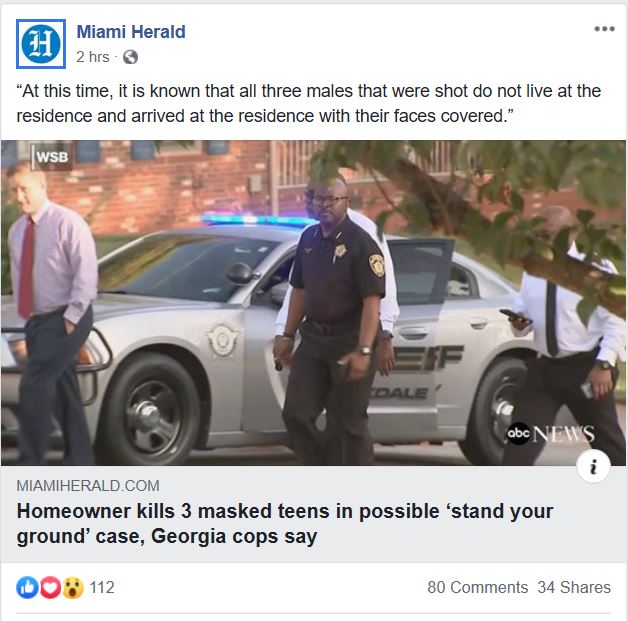 Gunfire that left three masked teenagers dead in Conyers, Georgia, is being investigated as a possible "stand your ground" case, according to local authorities.
Rockdale County deputies responded to reports of shots fired at a home in the Atlanta suburb shortly after 4 a.m. Monday, according to the Rockdale County Sheriff's Office.
When deputies arrived, they discovered "three males with gunshot wounds and began administering first aid," the Sheriff's Office said. Two were hospitalized and died, while the third was pronounced dead at the scene of the shooting. Those killed were a pair of brothers, 15 and 16, and another 15-year-old, WSB-TV reported
Homeowner kills 3 masked teens in possible 'stand your ground' case, Georgia cops say
The herald article seems to red like this: "ZOMG! They were executed just because they had masks! That's racist!" But if you happen to go to to other news organizations, specially local ones, you will read a different opening:
CONYERS, Ga. — Three masked teenagers were fatally shot after a shootout with a homeowner in Rockdale County early Monday, authorities said.
The incident happened just after 4 a.m. off Flat Shoals Road on White Oak Court in Conyers. The sheriff's office said the teens, two 16-year-old boys and a 15-year-old, were killed during an exchange of gunfire. It appears the teens were attempting to rob three people in the front yard, authorities said.
Published: 7:26 AM EDT September 16, 2019
Updated: 5:54 AM EDT September 17, 2019
3 masked teens shot to death outside Conyers home, sheriff says
Somebody mentions later in the article the homeowner probably using an "assault rifle" which would end up just being the cherry on top.
Never forget they hate you and they hate the idea you can defend yourself with deadly force.