From NBC News:
5 killed in shooting at MolsonCoors campus in Milwaukee; gunman also dead
Five people were killed in a shooting at the MolsonCoors headquarters in Milwaukee on Wednesday, police said.
The Milwaukee Police Department responded to reports of a shooting in the area just after 2 p.m. local time and found the suspect, a 51-year-old Milwaukee man, dead of an apparent self-inflicted gunshot wound. Authorities also found five employees of the "old Miller brewery" killed in the attack, Milwaukee Police Chief Alfonso Morales said.
The chief didn't give a motive for the shooting but did say no others were injured in the attack.
It is being rumored on the internet that the shooter was a former employee.  MolsonCoors has been undergoing layoffs as part of a corporate restructuring.
This is terrible.
That didn't stop Politico and MSNBC reporter Zach Everson from making it worse by being a piece of shit.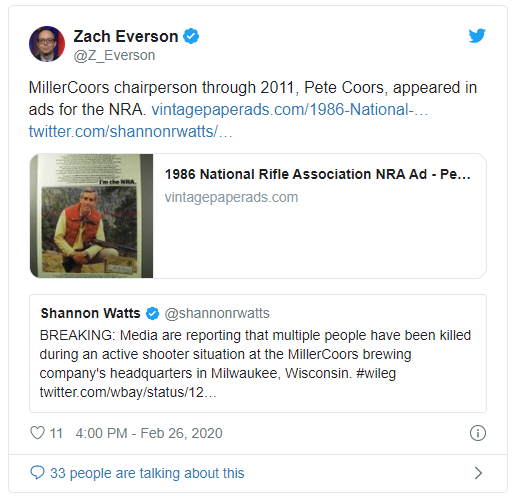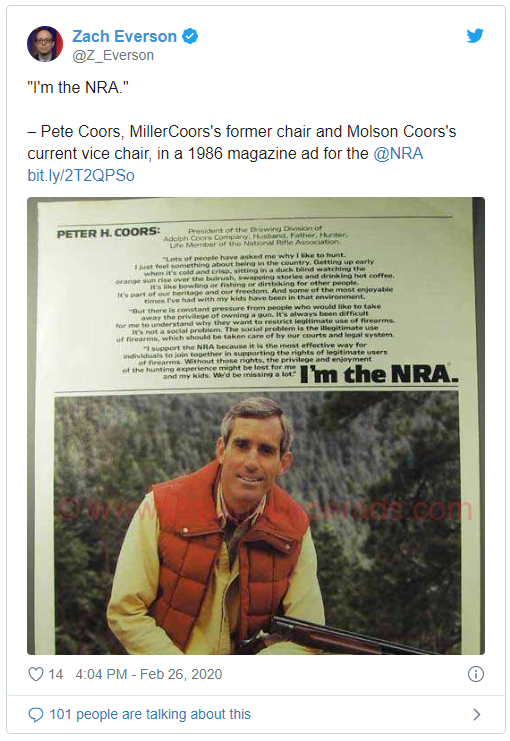 Here is the ad: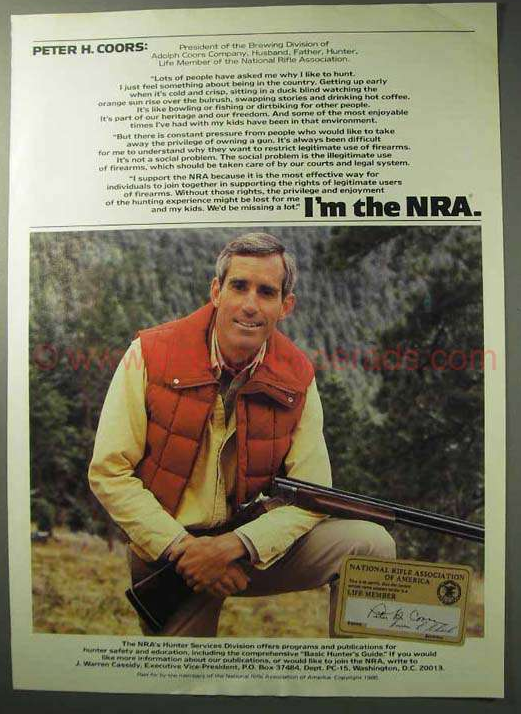 Peter H. Coors supported the NRA more than three decades ago because he loves duck hunting.
What does this 34-year-old ad have to do with today's shooting?
Abso-fucking-lutely nothing.  Nothing at all.
Except that someone in Everson's perverted mind, it must justify why five innocent employees were killed in the facility.
We know nothing about the shooter.  We know nothing about his background or how he got his gun.  We know nothing about why he went on his rampage.
But some professional anal fistula wanted to blame Peter Coors and the NRA for it.
This is not journalism.  This is a sickness brought on by hate.
These sorts of anti-gun people are not our moral superiors, they are angry human garbage.