Earlier today I posted this video:
NEW: @GovRonDeSantis annoyed with USF students—

"You do not have to wear those masks. Please take them off. Honestly, it's not doing anything. We've gotta stop with this Covid theater. So if you wanna wear it, fine, but this is ridiculous."https://t.co/7j1Pb2hV53 @WFLA pic.twitter.com/ZIOyTHLOh3

— Evan Donovan (@EvanDonovan) March 2, 2022
Here is a still of one of those students: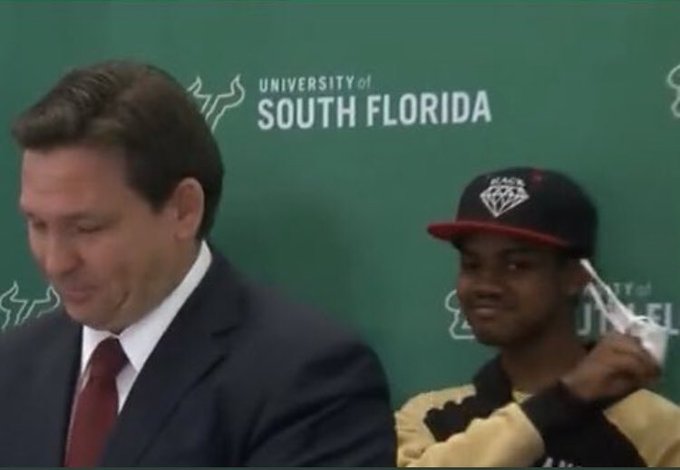 That kid looks so happy to have his mask off.
Now we see him with his mother:
"I took mine off."

"Did you feel pressure by the governor to do that?"

"A little."

This @HillsboroughSch senior's mom says she's very upset and it was "shocking" for Gov. DeSantis to ask her son & the other high school students to take off their masks. https://t.co/JNYeA9dYci pic.twitter.com/W6WZbAOKh8

— Justin Schecker (@WFLAJustin) March 3, 2022
Now the boy claims he felt pressured to take it off and didn't want to.
Yeah… bullshit.
The only pressure is from mom taking this and making herself into a victim.
How much do you want to bet she's going to (if she hasn't already) set up a Go Fund Me and is in contact with activist lawyers and try to mill this for money and fame abetted by the DeSantis hating media.
What a shit show.