The Nationwide Superbowl commercial managed to piss a lot of people off.  It is a good, poignant and creative ad, but the Superbowl might have not been the proper event to have it aired. We can discuss consequences in a bit.
But what was not unexpected (at least for me) was the reaction of the Gun Control cavalcade and specially Shannon Watts: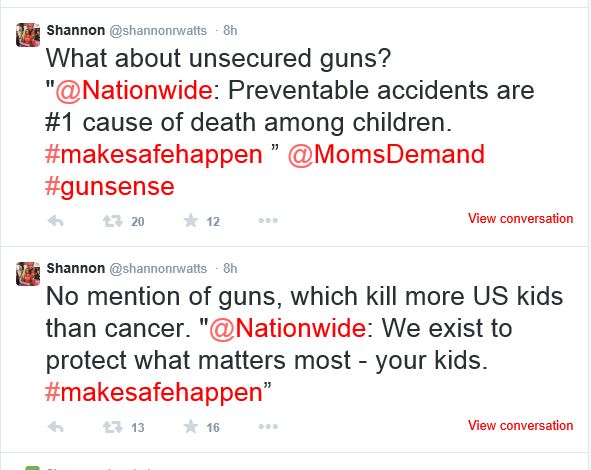 I love the misuse of cancer statement. Their own report says that about 100 kids, zero to fourteen die of accidental shootings (their estimations, not the lower official CDC numbers which is lower), while the American Cancer Society estimates 1,350 cancer deaths for the same age group. And let's take into account we are comparing dissimilar causes of death
Mother Jones magazine happened to tweet about the ad, but failed to mention guns so they incurred in Shannon's ire: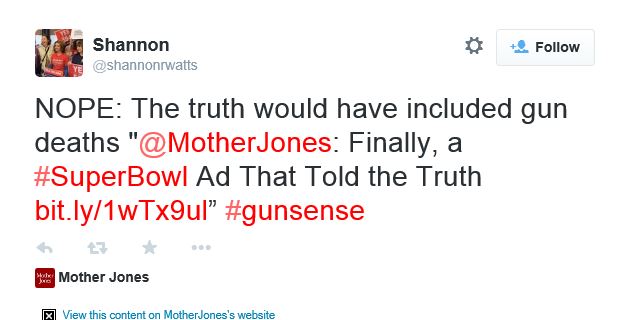 Now, there is no doubt that the ad generated a lot of talk and conventional wisdom says that it is a good thing, specially in this age of Youtube where replays of the ad will be done for free without the company having to buy more air time than needed. But there is such thing as negative attention or basically people in big numbers disliking the company because of the commercial; one thing in becoming famous and another is becoming notorious. Everybody knows both Mother Theresa and Charles Manson, but they are not necessarily transmitting the same message.
There is a palpable need to be first in this era of instant message delivery. But for somebody who worked so many years in PR, mistakes like this one are inexcusable.
But fanaticism will make you do stupid stuff and I don't mind that.