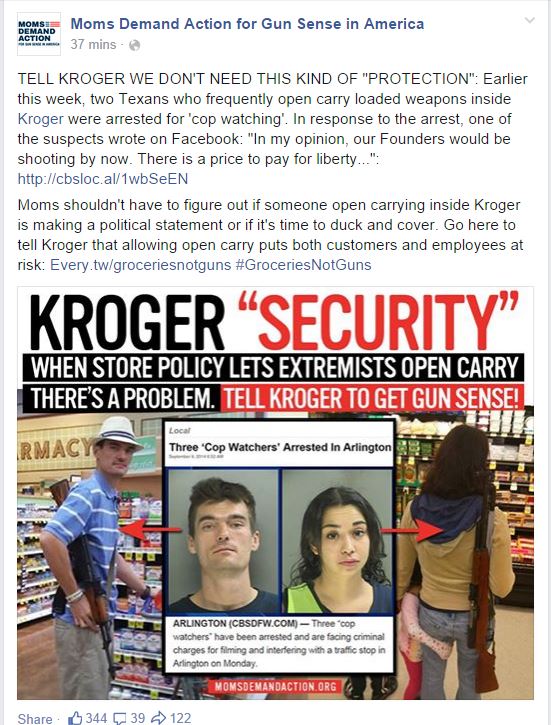 My opinion of Long Gun Open Carriers is well-known and need not to be repeated.  However, it is interesting that Moms Demand have used the arrest of two of those activists while taping police procedures on public property as crying rally.
Cop Watchers is simple in concept:  Quis custodiet ipsos custodes? (But who will guard the guardians?) There is the unfortunate (and becoming expensive) belief among Police Departments that they can control and deny the taping of their actions in public property.
I say unfortunate because they as public servants have no expectation of privacy in the fulfillment of their duties on private property just as we civilians do not have expectation of privacy  as we walked down or congregate in public places. They use an assortment of excuses (interfering with an investigation, fear for their lives, etc.) to try to block or even arrest and destroy the video or photography taken. And I call it expensive because time after time courts end up siding with the videographer and the county has to shell some serious dough in compensation.
The funny thing is that police departments have no qualms asking the public for cell phone videos of crimes committed to solve them, specially if one of their own is the victim. So it is clear that a selective application of what can people tape or not tape depending on what the police thinks.
I am betting that just in past cases, the charged will be dropped and some sort of settlement will be reached.
With the millions of people with camera-ready smartphones, the idea that you can stop and scrub an incident just because badges are present is stupid and a violation of rights.That Shannon Watts and the rest of the Moms Demand cast is OK with it shows once again that gun control is not about the guns but the control of people.
I do love when they manufacture enough rope to give themselves a nice 13 coil tie.
If you are interested in more info about Cop Watching, you may wanna follow PINAC (Photography is Not A Crime) by Miami's own Carlos Miller. For sanity's sake you may want to stay away from the comment section.