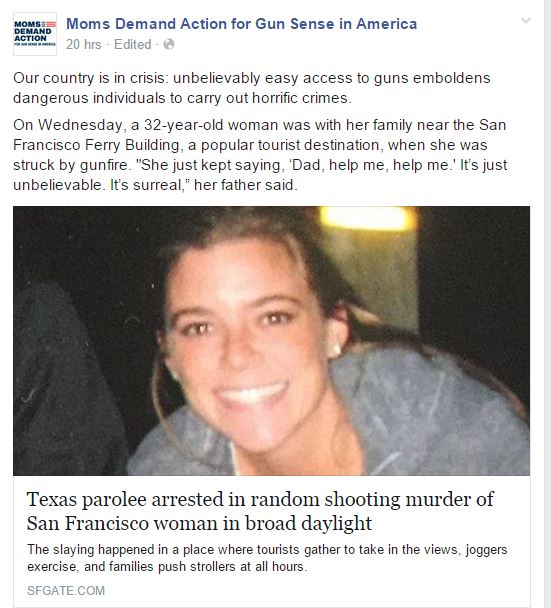 SAN FRANCISCO (AP) — A man suspected in the shooting death of a woman at a busy San Francisco tourist destination has seven felony convictions and has been deported five times, most recently in 2009, a federal agency said Friday.U.S. Immigration and Customs Enforcement had turned Francisco Sanchez over to authorities in San Francisco on March 26 on an outstanding drug warrant, agency spokeswoman Virginia Kice said.
Source: San Francisco: No 'legal basis' to hold shooting suspect – Yahoo News
But wait, there s more:
Sanchez was on probation for an unspecified conviction, police Sgt. Michael Andraychak said Thursday.
And if that was not enough:
Kice said ICE issued a detainer for Sanchez in March, requesting notification of his release and that he stay in custody until immigration authorities could pick him up. The detainer was not honored, she said.…

Freya Horne, counsel for the sheriff's office, said Friday that federal detention orders are not a legal basis to hold someone, so Sanchez was released April 15. San Francisco is a sanctuary city, and local money cannot be spent to cooperate with federal immigration law.
So, who is to blame for this deadly Felon Hot Potato game? You got it!

Now, this is San Francisco. This is Gun Control Paradise and Nirvana for every Liberal cause that exist on the face of Earth. This people recycle tofu farts into biofuel for Unicorn carriers and have all the top grades from every gun control organization, yet this murder happened.
And again, that is not all. The next day, the obligatory news crew were at the location to give us the usual heart wrenching news cum editorial when this happened:
News crews from two television stations were robbed of cameras Thursday morning and a camera operator was pistol-whipped as they reported on a homicide at Pier 14 in San Francisco.The mugging happened at 6:03 a.m. at the pier along the Embarcadero and was captured in part on the air.KTVU reporter Cara Liu was reporting live when someone ran up and stole camera equipment belonging to KNTV, which also had a crew on the scene. During the incident, KNTV camera operator Alan Waples was pistol-whipped.
Source: News crews mugged at San Francisco Pier on live TV | Local News – KSBW Home
But we need more Gun Laws to stop the violence… San Francisco made that bed, let them sleep in it.
I cannot process so much stupidity with a single cup of coffee.