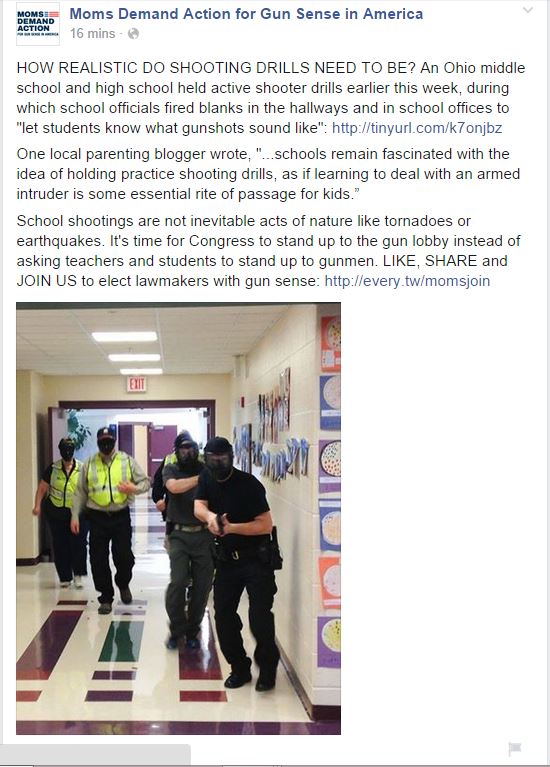 Blanks were fired from guns at an Ohio district's schools this week, as part of a safety exercise to let students know what gunshots sound like.

The blanks were fired in the hallways or school offices of Champion high school and middle school on Monday, reported local outlet WFMJ-TV. No gunshots were fired in areas that could have contained students.

The drill was part of training designed by ALICE Training Institute, an organization that helps schools develop plans for dealing with armed intruders, said the outlet. ALICE stands for Alert, Lockdown, Inform, Counter, Evacuate. School personnel had already received training from ALICE prior to the drill.
via School District Fires Blanks From Guns So Students Know What Gunfire Sounds Like.
So the local PD and School District decide not only to do some training but they dare to inject small amount of realism by shooting blanks far enough away from any student gathering as possible and people lose their minds. We even have what we can call a New Age Idiotic parent whose patchouli panties apparent got twisted:
One concerned parent, however, told the outlet that he did not think it was necessary for guns to be shot at school for the training."Record a gunshot and play it over the loud speaker," the parent told the outlet.
This is very very bad. No wonder Moms Demand is against it. God forbid they suddenly run out of bleeding/dying victims as it would put a dent on their efforts. Why would cops be prepared to act or teachers ready to minimize casualties?