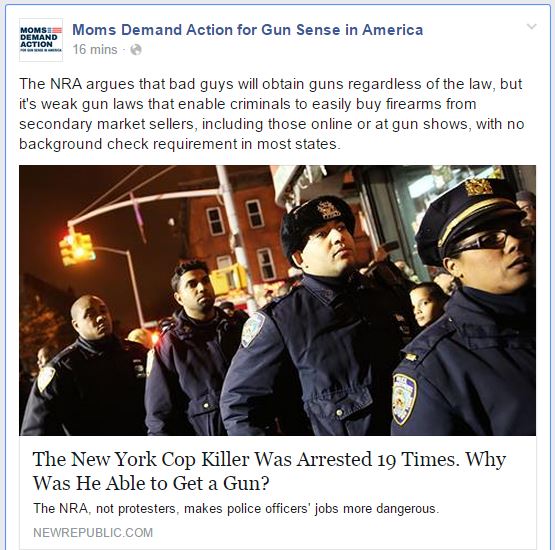 You see, it is simple: The  multiple-convicted felon Ismaaiyl Brinsley would have NEVER gotten a gun if the magical Universal Background Checks were in place. It is well-known that the power of UBCs is so great that black-marketeers immediately stop selling guns illegally, turn themselves in and pay their dues to society by going to Africa and start Clean Water projects or give elephants a free manicure.
Moms link to an article by Rebecca Leber in the soon-to-be-defunct left leaning New Republic where she states:
 As a felon, Brinsley was barred under federal law from buying a gun. Had he undergone a background check, he would have failed it and authorities could be notified. Yet the National Rifle Association argues that bad guys will get their hands on guns regardless of the law. The lobby points to violence in states with strong gun laws as evidence of gun control's ineffectiveness.
But Ms. Leber does not mention something rather important: How did Ismaaiyl Brinsley get his gun? Was it at a gun show? at a Dealer? from the corner 7-11? Black market? Stole it? She has no idea, but you don't need to know that because UBCs magic would have stopped Brinsley.
Now the fact that Ismaaiyl Brinsley plead guilty to several felonies and instead of sending him to prison where he would have been last week instead of executing cops, he was placed in some "boot camp" seems to escape both The Shannon Girls and Ms. Leber.  He obviously did not attend and a warrant for his arrest had been issued, but he had other plans that culminated with the death of Officers Liu and Ramos.
It is sad to see Moms and the New republic steal their correspondent pound of flesh off the bodies of the officers just to peddle their rhetorical bullshit. Even vultures have more style and wait for the bodies to cool off.