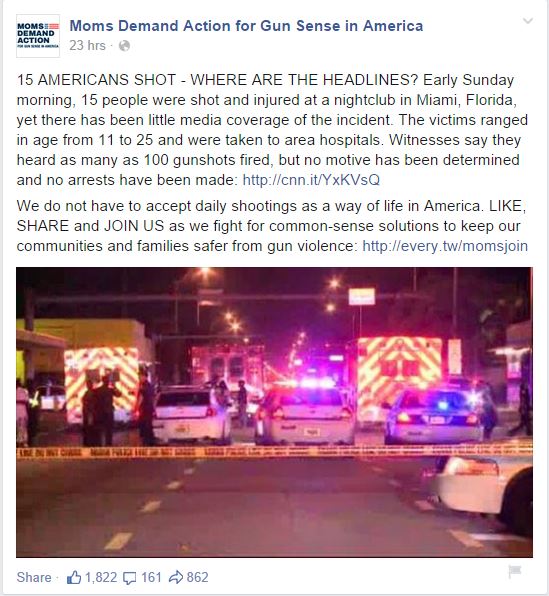 Yes, several minors were shot at a local nightclub last Sunday in Miami. And not only Moms Demand but the editors at the Miami Herald have no problem blaming the usual suspect: The NRA.
But as usual, Moms Demand are very good at parsing the language.  They said "Early Sunday morning, 15 people were shot and injured at a nightclub in Miami, Florida." and they are right…sort of… the shooting happened at 2 am.  Now, I know that there are clubs that have parties (non-alcohol) for the younger crowd, but a bunch of kids under 18 and as young as 11 in a Nightclub (that incidentally does not have the permit to be a nightclub but just a restaurant with a limited alcohol license) at two in the morning in Liberty City (gang territory) is just absurd.
According to witnesses, the exchange of fire happened between some people who arrived to the local and people from the inside so guns were already in place brought in by those attending the soiree. Who had what is not know yet.
The nightclub is shut down now. Besides the license, they found several code violations and the owner was arrested. The investigation is still ongoing and maybe we will hear more at a later date.
But even some of the followers of Mom Demand had trouble digesting the idea that kids were at a nightclub.